Creating a Useful Science of Education: Society's Most Important and Challenging Task (Paperback)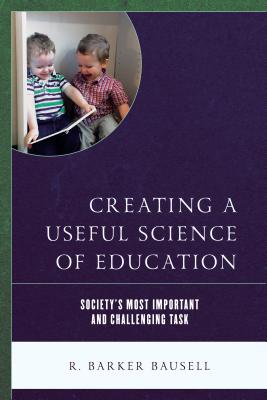 Not currently in store. Available to ship from distributor's warehouse.
Description
---
Bausell provides a restrictive but defensible view of the purpose of educational research which is to produce instructional, curricular, or assessment products rather than seldom read and soon forgotten academic papers.This book poses and answers two questions: (a) whether it is possible for the science of education to develop into a discipline that could constructively impact the education of students and, if so (b) what type of research would be required for this transformation. Three genres of research were identified that possess the potential for impacting school instruction if the end result of this work is an instructional product capable of increasing learning by increased access to instruction or engagement therewith. Finally, specific suggestions are tendered for creating the infrastructure needed to realize this unique vision of what the science of education should be.
About the Author
---
Dr. R. Barker Bausell was the first educational researcher to demonstrate the learning superiority of both tutoring and small group instruction when the curriculum, teacher differences, instructional time, and student differences were rigorously controlled. He served as a biostatistician, research methodologist, and the Director of Research in two departments within the University of Maryland over a 35+ year career and was the founding editor/editor-in-chief of the peer reviewed, Evaluation and the Health Profession for 33 of those years. He has authored 12 other books including: Conducting Meaningful Experiments: 40 Steps to Becoming a Scientist, Too Simple to Fail: A Case for Educational Change, and Snake Oil Science: The Truth about Complementary and Alternative Medicine.