School Law for Public, Private, and Parochial Educators, 2nd Edition (Hardcover)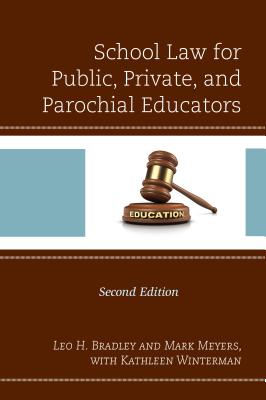 Not currently in store. Available to ship from distributor's warehouse.
Description
---
School Law for Public, Private, and Parochial Educators serves educators from all types of school systems in preservice or professional development. It is designed as an academic text for master's and doctoral level, and administrative licensure (postmaster's). Since educators often work in both the public and the private sector, this text prepares them for a career in either domain. This is a unique feature of the book, since school law books usually concentrate on either the public or the private domain. The following relevant issues in school law are covered: -The legal system -The federal and state role in education -Church-state relationships and accomodations -Attendance law -Instructional programs -Student rights -Teacher contracts, rights, and freedoms -Teacher negligence -Law for students with disabilities -Desegregation -Title IX To facilitate research efforts, the book provides case summaries, which include briefs, ramifications, and topics of interest at the end of each chapter. School Law for Public, Private, and Parochial Educators is a concise presentation of the constitutional, statutory, and case law knowledge necessary for the effective day-to-day operation of all types of school systems. Contemporary issues having a large impact on school law, such as the charter school movement, home schooling, public and private vouchers, common core, and the persistent evolution verses intelligent design controversy, are also included.
About the Author
---
Dr. Leo H. Bradley is a full professor and former educational administration chair at Xavier University, during which time he has authored seven books, and co-authored two additional books on school leadership and law. Dr. Bradley has held the positions of teacher, principal, curriculum director, assistant superintendent, and superintendent in the Ohio public schools. D. Mark Meyers, Ph D is an Associate Professor of Leadership in the School of Education at Xavier University and President of the Ohio Association of Private Colleges of Education. He is formerly the Dean of the College of Social Sciences, Health and Education at Xavier University, a position he held from 2007-2014. Kathleen Winterman, Ed D, has more than 27 years of experience working in the field of special education. Her areas of research include teacher preparation, individualized educational program preparation, early childhood, special education, autism, instructional technology, and services for students with mental illnesses.