F2H Banshee Units (Combat Aircraft) (Paperback)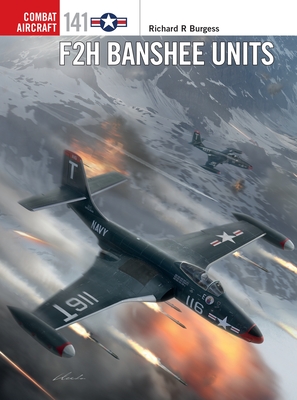 $24.00

Coming Soon - Available for Pre-Order Now
Other Books in Series
Description
---
A fully illustrated study of the extraordinarily successful early-generation jet, the F2H Banshee, a frontline aircraft that served with 27 US Navy and US Marine Corps squadrons and three Royal Canadian Navy (RCN) squadrons.

The F2H Banshee was an extraordinarily successful early-generation jet that outlasted both contemporary and more modern fighter types on the decks of the US Navy's aircraft carriers in the 1950s. It served in a variety of roles, undertaking fighter, strike fighter, night-fighter, nuclear strike, and photo-reconnaissance missions. The Banshee was a frontline aircraft for more than a decade in an era when jet fighters came and went with relatively short service careers. This volume examines the entire service life of the F2H in the service of the US Navy, US Marine Corps, and the RCN. Initially created as a replacement aircraft for McDonnell's pioneering FH1 Phantom, the F2H served in the Korean War as a strike fighter, close air support aircraft, B29 escort, and photoreconnaissance aircraft, including the latter's forays over the Soviet Union and China. Post service in Korea, the Banshee served as a carrier based nuclear strike aircraft, followed by its service as a defensive fighter for antisubmarine aircraft carriers. Filled with first-hand account and rare colorphotographs, this is the engrossing story of the F2H Banshee, exploring its variety of roles in service and detailing the technology development that improved the aircraft's capabilities over time.
About the Author
---
Rick Burgess is a retired naval flight officer who served in two patrol squadrons. Burgess, a former editor of Naval Aviation News and the current managing editor of Sea Power magazine, is the editor of two books on naval aviation and the author of numerous articles and books on naval aviation history and organisation.

Jim Laurier is a native of New England and lives in New Hampshire. He attended Paier School of Art in Hamden, Connecticut, from 1974–78, and since graduating with Honours, he has been working professionally in the field of Fine Art and Illustration. He has been commissioned to paint for the US Air Force and has aviation paintings on permanent display at the Pentagon.

Gareth Hector is a digital artist of international standing as well as an aviation history enthusiast. Gareth completed the battlescene and cover artwork in this title. He lives in Perthshire, UK.