Storm-333: KGB and Spetsnaz seize Kabul, Soviet-Afghan War 1979 (Raid) (Paperback)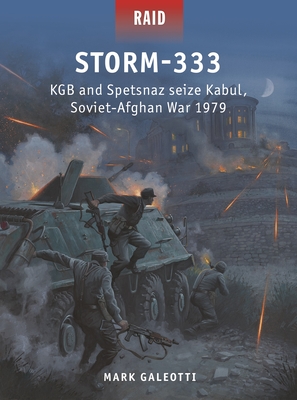 $22.00
Not currently in store. Available to ship from distributor's warehouse.
Description
---
Storm-333 was the opening move in the Soviet-Afghan War, a special-forces mission to seize Kabul and assassinate Afghan leader Hafizullah Amin. At once a textbook success for the Spetsnaz and KGB and the start of a terrible strategic blunder for the USSR, this is the most authoritative history of the operation available in English.

Storm-333, the operation to seize Kabul and assassinate Afghan leader Hafizullah Amin, was at once a textbook success and the start of a terrible blunder. It heralded the Soviet invasion of Afghanistan, an operation intended to be a short, largely symbolic show of force, yet which quickly devolved into a gritty ten-year counter-insurgency which Moscow was never able to win. Nonetheless, Storm-333 was a striking success, and despite initial concerns from some quarters that it would be impossible, it saw a relative handful of Soviet special forces drawn from the KGB and the military seize the heavily defended presidential palace, neutralize the city's communications and defenses, and open Kabul to occupation. The lessons learned then are still valid today, and have been incorporated into modern Russian military art, visible most recently in the seizure of Crimea in 2014.

Written by a recognized expert on the Soviet security forces, drawing extensively on Russian sources, and fully illustrated with commissioned artwork, this is the most detailed and compelling study of this fascinating operation available in English.
About the Author
---
Professor Mark Galeotti runs the Mayak Intelligence consultancy and is also an Honorary Professor at UCL, a Senior Associate Fellow with RUSI and a Senior Non-Resident Fellow at the Institute of International Relations Prague. Formerly Head of History at Keele University in the UK and Professor of Global Affairs at New York University, he is a former Foreign Office adviser on Russian security affairs, and for 15 years (1991–2006) wrote a monthly column on this for Jane's Intelligence Review.

Mark Stacey was born in Manchester, UK, in 1964 and has been a freelance illustrator since 1987. He has a lifelong interest in all periods of history, particularly military history, and has specialized in this area throughout his career. He now lives and works in Cornwall.

Johnny Shumate works as a freelance illustrator living in Nashville, Tennessee. He began his career in 1987 after graduating from Austin Peay State University. Most of his work is rendered in Adobe Photoshop using a Cintiq monitor. His greatest influences are Angus McBride, Don Troiani, and Édouard Detaille.