Bradley vs BMP: Desert Storm 1991 (Duel #75) (Paperback)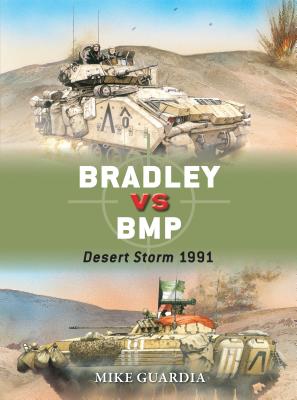 Description
---
In the mid-1960s, the Soviet Union unveiled the BMP-1, the first true "infantry fighting vehicle." A revolutionary design, the BMP marked a significant departure from the traditional "armored personnel carrier," sporting a lower silhouette and a higher-caliber armament than rival APCs. One of the most fearsome light-armored vehicles of its day, it caused great consternation on the other side of the Iron Curtain as the Americans scrambled to design a machine to rival the BMP. The result was the M2 Bradley; however, the American type seemed to be at an immediate disadvantage, with a higher profile, lighter armaments, and a lack of speed compared to the BMP.
This book examines the first time these Cold War icons clashed--not on the plains of Europe, but in the deserts of southern Iraq during the first Gulf War. It examines how the Americans were able to combat the BMP in Iraq--despite their apparent disadvantages--investigating the impact of better-trained crews and stronger C&C structures on the eventual outcome. Featuring specially commissioned full-color artwork, this is the absorbing story of the origins, development, and combat performance of the BMP and Bradley, culminating in the bloody battles of the first Gulf War.
About the Author
---
Mike Guardia, an Armor Officer in the U.S. Army stationed at Fort Bliss, TX, studied American history at the University of Houston. His research covers WWII in the Pacific and armored and guerrilla warfare. His previous works include Shadow Commander and American Guerrilla.

Alan Gilliland was the graphics editor of the Daily Telegraph. He now writes, illustrates, and publishes fiction (www.ravensquill.com).

Johnny Shumate works as a freelance illustrator in Nashville, TN.
Praise For…
---
"When you add in the great photos, superb art work and various stat tables, you get a very good look at how well these adversaries performed against each other. It makes for a superb read and a book that I can easily recommend." - Modeling Madness
"This story has so many dimensions, I have to recognize the author for doing an excellent job given the space provided to summarize them all. Highly recommended." - AMPS
"I really enjoyed improving my understanding of the development of the Soviet BMP and US Bradley and their impact in the 1991 Gulf War from Mike Guardia." - IPMS/USA
"Roundly recommended!" - Cybermodeler Online