Elefantastic!: A Story of Magic in 5 Acts: Light Verse on a Heavy Subject (Hardcover)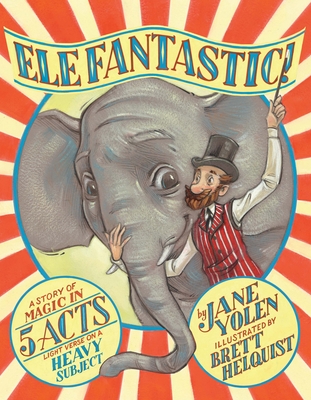 Find us on Bookshop.org to order!
Description
---
Experience a magical story of ele-friendship and one disappearing elephant's ele-fate.

Discover the unlikely—and entirely unforgettable—friendship between Flora, an elephant calf stolen from her African home, and David, the circus impresario and magician who adopts, trains, and ultimately liberates her, in this tale freely inspired by actual events.

With a minimum of language—only 22 words in all—but a maximum of inventive ele-fantabulous wordplay, Jane Yolen deftly reimagines this initially tentative but ultimately unconditional relationship between a man and an elephant. Brett Helquist not only lovingly illuminates the tale with all the excitement and tension, mystery and color of a vintage circus poster but also fully captures the subtle range of emotions of a remarkable and enduring ele-friendship.

FRIENDSHIP TALE: There's endless fascination with the deep bond of friendship that can grow between wild animals and humans. This spectacular narrative is based on the true story of Flora the elephant, which can be read in the back of the book.

READ-TOGETHER WHIMSY AND WIT: A simple text in which every word starts with ELE- makes this a great read-aloud and guessing game that will have children completing the whimsical text.

EVERYONE LOVES ELEPHANTS: From Babar to Elmer, elephants have been icons of children's literature and continue to be one of the most popular animals featured in contemporary children's books. This book is perfect for Elephant-fans of all ages!

Perfect for:

• Lovers of animal friendship stories
• Grandparents
• Parents
• The myriad fans of Jane Yolen
• Teachers and educators
• Librarians
About the Author
---
Jane Yolen, hailed as the Hans Christian Andersen of America, has written more than 370 books, won numerous awards, and received six honorary doctorates in literature. Her works include such classics as The Devil's Arithmetic, How Do Dinosaurs Say Goodnight?, the Caldecott medal-winner Owl Moon, and A Bear Sat On My Porch Today. Jane lives in Hatfield, Massachusetts, and you can visit her at www.janeyolen.com.

Brett Helquist is the New York Times bestselling illustrator of many books, including Lemony Snicket's A Series of Unfortunate Events, Chasing Vermeer, and Guitar Genius by Kim Tomsic (Chronicle). He is also the author-illustrator of Grumpy Goat; Bedtime for Bear; and Roger, the Jolly Pirate. A native of Utah, Brett now lives in Brooklyn, New York. When he has a little free time, Brett loves to play guitar, ukulele, and banjo. Visit him at www.bretthelquist.com.
Praise For…
---
"The charming gouache illustrations are packed with expression and detailed insets, and their combination with the circus-font text gives the proceedings a delightfully old-fashioned feel. Young readers will revel in the colorful carnival atmosphere and tender interspecies friendship."—Booklist 

"[T]old in five acts, [Elefantastic!] unfolds in solitary, rhyming 'ele' words, each painted in circus-style lettering. . . Helquist (Just Being Dalí) reassures readers about the elephant's subsequent quality of life in dapper gouache spreads . . . [T]he artwork successfully centers a magician's love for a creature in this nostalgic piece of Americana."-Publishers Weekly