Willkommen! 2 German Intermediate course: Activity Book (Paperback)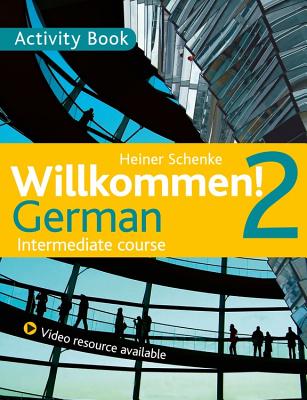 $24.99
Not currently in store. Available to ship from distributor's warehouse.
Description
---
Willkommen! 2 Intermediate course is a brand new multi-format German adult learning programme for classroom and home use. The course includes a coursebook, activity book, CD and DVD set plus online activities.
Created in consultation with teachers and learners it's the perfect follow-up to the Willkommen! Beginner's course and takes your learning further. It can also be used as a starting point for study to review and build on existing knowledge.
This Activity Book contains hundreds of extra practice and review activities linked to the coursebook units.
The course is full of learning features to help you progress in reading, writing, listening and speaking German. It's designed for classroom use but is also suitable for home study.
Mirroring the topics in the coursebook, Willkommen! 2 Activity Book provides invaluable further practice of the language in the 10 chapters, giving students both the opportunity to improve essential language skills and the confidence with which to use them. It is ideal for individual study and revision purposes, in addition to classroom use.

The Activity Book offers:
· Extra practice on particular areas of difficulty
· Additional reading texts providing insights into the cultures of German-speaking countries
· A range of tasks to help progress with grammar and vocabulary at a higher level
· More demanding tasks for faster learners
· Extended practice for class or home use
· A self-assessment test at the end of each chapter

It also contains an Answer Key for self-checking.



Also available: Coursebook (ISBN 9781471805158): this full-color 190-page coursebook is the primary text for the course. Ideal for classroom and home use.CD and DVD Set (ISBN 9781444165234): contains all the dialgogues and listening activities included in the coursebook plus video content building on the real-life German used in the course.Course Pack (ISBN 9781473601390): includes the Coursebook, the CD and DVD Set and an online Support Book containing a key to the exercises and audio transcripts).
About the Author
---
Heiner Schenke was born in Hanover and is a native speaker of German. He has taught at university level for many years and was also the Director of the institution-wide language programme at the University of Westminster in London. He is the co-author of the Willkommen! course as well as several other self-study German books.