Mousetronaut: Based on a (Partially) True Story (The Mousetronaut Series) (Hardcover)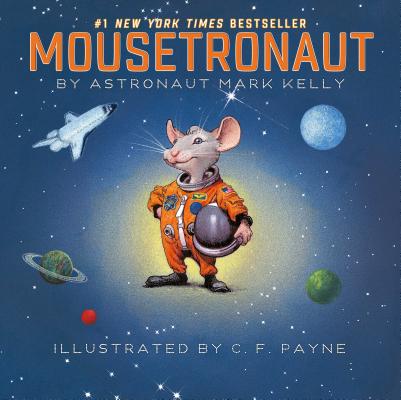 Find us on Bookshop.org to order!
Description
---
A #1 New York Times bestseller

"This little mouse may well inspire some big dreams." —Kirkus Reviews

"In this picture book based on the space shuttle Endeavor…Meteor is one of the smallest mice, but the most hardworking…the values of being small, useful, solving problems, and working hard—as opposed to being big and strong—will inspire young readers." —School Library Journal

"Inspired by this real-life mouse, Kelly's first children's book tells the story of Meteor, a lightly anthropomorphized rodent who turns his tininess into an advantage when an important key gets stuck in a crack between two monitors…textured images and vivid portraits that make it absolutely clear that space travel is a larger-than-life adventure." —Publishers Weekly

A heartwarming picture book tale of the power of the small, from bestselling author and retired NASA astronaut Commander Mark Kelly.

Astronaut Mark Kelly flew with "mice-tronauts" on his first spaceflight aboard space shuttle Endeavour in 2001. Mousetronaut tells the story of a small mouse that wants nothing more than to travel to outer space. The little mouse works as hard as the bigger mice to show readiness for the mission . . . and is chosen for the flight! While in space, the astronauts are busy with their mission when disaster strikes—and only the smallest member of the crew can save the day. With lively illustrations by award-winning artist C. F. Payne, Mousetronaut is a charming tale of perseverance, courage, and the importance of the small!
About the Author
---
Mark Kelly has served as the junior US Senator from Arizona since 2020. He was a captain in the United States Navy when he commanded the final mission of space shuttle Endeavour in May 2011. A veteran of four space flights to the International Space Station, he is a graduate of the United States Merchant Marine Academy and holds a master's degree from the U.S. Naval Postgraduate School.

C. F. Payne has illustrated more than a dozen picture books, including the New York Times bestselling Mousetronaut by astronaut Mark Kelly; the Texas Bluebonnet winner Shoeless Joe & Black Betsy, written by Phil Bildner; and the New York Times bestsellers The Remarkable Farkle McBride and Micawber, both by John Lithgow. He teaches at the Columbus College of Art & Design, where he is the chair of the Illustration Department. Payne lives with his wife and children in Cincinnati, Ohio. Visit him online at CFPayne.com.
Praise For…
---
"This little mouse may well inspire some big dreams." -- Kirkus
— Kirkus

"In this picture book based on the space shuttle Endeavor ...,Meteor is one of the smallest mice, but the most hardworking. ...The values of being small, useful, solving problems, and working hard–as opposed to being big and strong–will inspire young readers." -- School Library Jounral
— School Library Journal

"Inspired by this real-life mouse, Kelly's first children's book tells the story of Meteor, a lightly anthropomorphized rodent who turns his tininess into an advantage when an important key gets stuck in a crack between two monitors. ... textured images and vivid portraits that make it absolutely clear that space travel is a larger-than-life adventure. " -- Publishers Weekly
— Publishers Weekly

Here the mouse is headed in the opposite direction. This first children's book by Kelly, a retired astronaut and husband of former Representative Gabrielle Giffords, builds on his experience with real mice aboard the space shuttle Endeavour. Eighteen of them. In this winning story there are six, and as the smallest one, Meteor gets to perform his own special mission. After helping the astronauts out of a potential Apollo 13 calamity, Meteor is declared a hero—sure to please many fellow pipsqueaks back on Earth.
— The New York Times Book Reivew