The Ultimate Guide to Collectible Lego Sets: Identification and Price Guide (Paperback)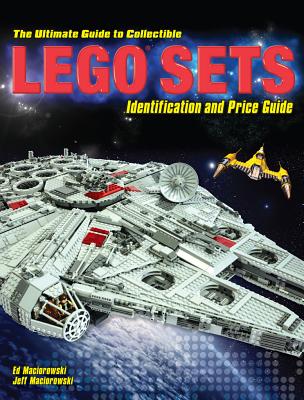 Email orders@tridentbookscafe.com or call for price
Hard to Find - Email orders@tridentbookscafe.com for availability
Description
---
Brick by Brick Brilliance
LEGO bricks are the building blocks of childhood. Yet they are far from child's play. LEGO sets are fast becoming a hot commodity with collectors worldwide for fun and profit.
Abundantly visual, informative and detailed, The Ultimate Guide to Collectible LEGO Sets is the definitive reference to more than 2,000 of the most collectible sets on the secondary market, illustrating the incredible value of LEGO bricks, not only from an entertainment and educational standpoint, but also as an investment. Consider a Star Wars Ultimate Collector Series Millennium Falcon, which sold at retail for $500, is now selling for more than $3,500 on the secondary market.
The Ultimate Guide to Collectible LEGO Sets features:
More than 25 top themes, including Advanced Models, Batman, Ideas/Cuusoo, Star Wars UCS and non-UCS sets, Technic, Trains, and Vintage
Up-to-date secondary market prices for more than 2,000 new and used sets from 2000 to present
More than 300 full-color photos of sets in their boxes, and built models
Tips on reselling, flipping, and investing
The Ultimate Guide to Collectible LEGO Sets
is your brick-by-brick guide to a world of imagination and discovery.
About the Author
---
Ed Maciorowski is the co-founder and co-owner of BrickPicker.com. He has been a LEGO collector since 1973, when his parents gave him his first set (710 Wrecker with Car). Ed is now an investor as well, with over 6,000 sets in his collection and a current market value well into the six figures. He and his brother, Jeff, got the idea to create the online LEGO price and investing guide after Ed discovered that a 10179 Millennium Falcon set he bought for $399 was selling for $800-$1,200 on eBay two years later. The price for that set is now nearly $4,000. Ed also is a regular contributor in the LEGO-themed magazine, BLOCKS.Jeff Maciorowski is the co-founder and co-owner of BrickPicker.com. He is a senior website engineer for a $40 million market research company and specializes in multiple web technologies, including Cold Fusion, jQuery, Oracle, and mySQL. Jeff built Brickpicker.com from the ground up and it is now the third busiest LEGO-themed website in the world that attracts over five million visitors annually. The site has been featured in the USA Today and other digital media outlets (BBC.com, Wired.com). Jeff is also the creator of the recently launched BrickClassifeds.com website, a cost-effective secondary LEGO marketplace.