Nobody's Perfect: A Story for Children about Perfectionism (Hardcover)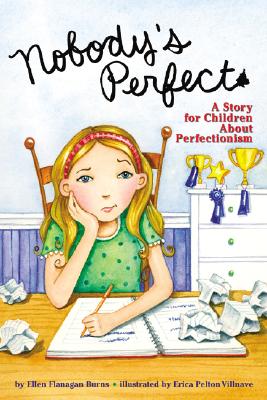 Description
---
Jill walked over and stood next to Sally. She played right before Sally in the recital. "I liked your pieces," Jill said.

Sally said, "But I messed up on the second one. It sounded really bad."

"Oh, I didn't notice," Jill said. She shrugged, "I made a couple of mistakes too. It's no big deal"

Sally thought Jill was just trying to be nice. She couldn't remember Jill every making a mistake when she played. In fact, she made it look so easy all the time.

After another sip of punch and a chocolate chip cookie, Sally was ready to leave.

She wasn't in a very good mood and most of all she didn't want to face Mrs. Pratt. Sally felt like she had let her down.

Sally Sanders is a perfectionist--if can't she be the best, she feels like a failure. Sally procrastinates, shies away from new things, and constantly compares herself to others, convinced she's not good enough. With the help of her teachers and mother, Sally learns how to relax and try new things without worrying so much about being the best. She can just be herself, and that is all she needs.

About the Author
---
Ellen Flanagan Burns is a school psychologist and the author of Nobody's Perfect: A Story for Children About Perfectionism and Ten Turtles on Tuesday. She devotes her writing to helping children overcome anxiety. She believes that children's books can be a powerful therapeutic tool and supports cognitive-based interventions for children with anxiety-related issues. Ms. Burns lives in Newark, Delaware with her family, where she is also a practicing licensed massage therapist. Erica Pelton Villnave's involvement in children's literature began at the Maryland Institute College of Art where she studied illustration. She is the illustrator of numerous books for children, including Nobody's Perfect. She lives in upstate New York. Visit her at www.peltonvillnave.blogspot.com.