Calder Grit (Large Print / Library Binding)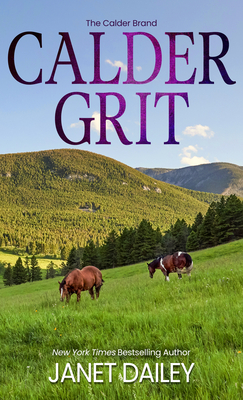 $60.78

Not currently in store. Available to ship from distributor's warehouse.
Description
---
With all the intense drama, historical detail and grand sweep of her original New York Times bestselling Calder series, Dailey returns to 1909 Montana, as tensions mount between immigrant homesteaders and cattlemen determined to keep the range free. Adding a Romeo and Juliet romance with shades of Legends of the Fall to a compelling plot that pits farmer against cattleman and brother against brother, Dailey brings fresh life to the story of America's westward expansion. As the countryside explodes in violence, the Calder patriarch has the power to stop the destruction, though some believe Benteen Calder is only stoking the flames for his own gain. One man courageously straddles the divide... That man is Blake Dollarhide, the ambitious young owner of Blue Moon's lumber mill. When Blake's spoiled half-brother takes advantage of the innocent daughter of a homesteading family, Blake steps in as Hanna Anderson's bridegroom to restore her honor and give her unborn child his name. But Blake doesn't count on the storm of feelings he develops for sweet Hanna. When the war between the factions rages anew, everyone wonders if Blake will stand by the close-knit community he serves, or the wife he took in name only... A marriage of love is more than Hanna ever dreamed of. For her family, surviving the rugged trip west, claiming a parcel of land and planting their first crops on the vast prairie are the only things that matter. Which is why the unexpected passion she feels for her husband is all the more poignant. But even as she longs to trust the strong bond growing between her and Blake, Hanna knows it will take courage and grit to overcome the differences between them. And even greater strength of will to put down roots in this wild new country. The epic tale of the settling of the American West comes to vivid life in this inspiring saga of love, hope and endurance.
About the Author
---
Janet Dailey, known as "America's First Lady of Romance," published her first book in 1976 and went on to became one of the top-selling female authors in the world, with 325 million copies of her books sold in nineteen languages in ninety-eight countries. She is known for her strong, decisive characters, her extraordinary ability to recreate a time and a place, and her unerring courage to confront important, controversial issues in her stories. To learn more about Janet Dailey and her novels, please visit JanetDailey.com or find her on Facebook at Facebook.com/JanetDaileyAuthor.