The Phantom Prince: My Life with Ted Bundy, Updated and Expanded Edition (Paperback)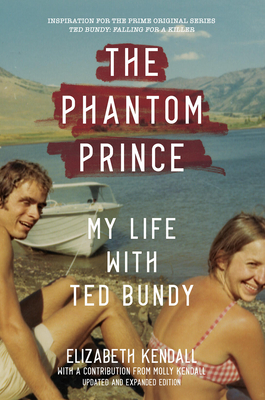 Find us on Bookshop.org to order!
Description
---
The inspiration for the five-part Amazon Original docuseries Ted Bundy: Falling for a Killer, an updated, expanded edition of The Phantom Prince—Elizabeth Kendall's 1981 memoir detailing her six-year relationship with the notorious serial killer.

Features an introduction and an afterword by the author, never-before-seen photos, and a startling chapter from the author's daughter, Molly, who has not previously shared her story.

Bundy is one of the most notorious serial killers in American history, and one of the most publicized to this day. However, very rarely do we hear from the women he left behind—the ones forgotten as mere footnotes in this tragedy. The Phantom Prince chronicles Elizabeth Kendall's intimate relationship with Ted Bundy and its eventual unraveling. As much as has been written about Bundy, it's remarkable to hear the perspective of people who shared their daily lives with him for years. This gripping account presents a remarkable examination of a charismatic personality that masked unimaginable darkness.

"The Phantom Prince is both surreal and brave. Elizabeth Kendall and her daughter Molly share their remarkable personal experience of trauma and courage as it played out in the shadows of perhaps the most devastating true crime story of our time." —Trish Wood, producer/director of Ted Bundy: Falling for a Killer
About the Author
---
Elizabeth Kendall's memoir, The Phantom Prince, was originally published in 1981. Molly Kendall, her daughter, considered Bundy a father figure between the ages of three and ten.
Praise For…
---
"For decades, interest and news coverage about Ted Bundy focused on Bundy as a killer, privileging his perverse pathology and overweening ego over anyone else. Now the focus has shifted to the women whose world Bundy inhabited… whose lives were bound up with Ted Bundy like family, kept apart from the unimaginable but living everyday horrors of their own. Women like Elizabeth and Molly Kendall."
— GEN Magazine

"It's apparent from the very first line of The Phantom Prince to Molly's final chapter … that Kendall's voice, as well as that of her daughter, are needed."
— Clémence Michallon

"The Phantom Prince is both surreal and brave. Elizabeth Kendall and her daughter Molly share their remarkable personal experience of trauma and courage as it played out in the shadows of perhaps the most devastating true crime story of our time."
— Trish Wood, Producer/Director of the Amazon Original documentary series, Ted Bundy: Falling for a Killer