Paolo, Emperor of Rome (Hardcover)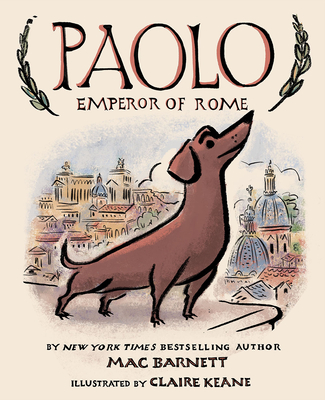 $17.99
Available to Ship from Distributor's Warehouse
About the Author
---
Mac Barnett is the coauthor of the Terrible Two series and the author of many picture books, which have won multiple Caldecott Honors. Claire Keane studied graphic design in Paris before moving to Los Angeles, where she worked at Walt Disney Feature Animation for 10 years and contributed to Frozen, Tangled, Enchanted, and many other films. She now lives in Venice Beach, California, where she writes and illustrates children's books.
Praise For…
---
**STARRED REVIEW**
"Bighearted tale that champions honor for honor's sake."
— Publishers Weekly
**STARRED REVIEW**.
"Both Keane's art and Barnett's plucky hero give the big city of Rome an exciting and inviting feel, making it a delightful adventure for readers and travelers of all ages."
— Shelf Awareness
"Joyful…Claire Keane's illustrations evoke the noise and vitality of Rome at its most rewarding. [A] charmer."
— Wall Street Journal
"Barnett's theatrical narrator works in tandem with the hilariously pompous pooch to carry this rib-tickling romp with infectious bravado. . .The beautifully textured architecture and action sequences harken back to classic picture-books artists. Molto bene!"
— Kirkus Reviews
"In a single day, Paolo wins over the dogs of Rome, its people, and the pope; he'll just as easily endear himself to readers."
— School Library Journal
"Readers will be endeared to Paolo instantly, with his lust for life and pluckiness in the face of adversity. Barnett's text is simple but imbued with a sense of dramatic beauty and humor. Keane's illustrations recall gorgeous pastel crayons swept across the page, capturing the elegance of Rome and the charm of the adorable pooch at the heart of the story."
— Booklist