How the End Begins: The Road to a Nuclear World War III (Hardcover)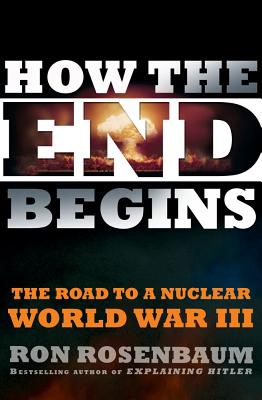 $28.00
Email or call for price.
Description
---
The president loses control of fifty nukes for nearly an hour. Russian nuclear bombers almost bump wingtips with American fighter jets over the Pacific coast. North Korea detonates nuclear weapons underground. Iran's nuclear shroud is penetrated by a computer worm. Al-Qaeda goes on the hunt for Pakistan's bomb, and Israelis debate the merit of a preemptive nuclear strike. Treaties are signed, but thousands of nuclear weapons are still on hair-trigger alert.
This is how the end begins.
In this startling new book, bestselling author Ron Rosenbaum gives us a wake-up call about this new age of peril and delivers a provocative analysis of how close—and how often—the world has come to nuclear annihilation and why we are once again on the brink.
Rosenbaum tracks down key characters in our new nuclear drama and probes deeply into their war game strategies, fears, and moral agonies. He travels to Omaha's underground nuclear command center, goes deep into the missile silo complexes beneath the Great Plains, and holds in his hands a set of nuclear launch keys.
Along the way, Rosenbaum confronts the missile men as well as the general at the very top of our nation's nuclear command system with tough questions about the terrifying assumptions underlying it. He reveals disturbing flaws in our nuclear launch control system, suggests remedies for them, shows how the old Cold War system of bipolar deterrence has become dangerously unstable, and examines the new movement for nuclear abolition.
Having explored the depths of Hitler's evil and the intense emotion of Shakespeare's tragedies, Rosenbaum now has produced a powerful, urgently needed work that challenges us: Can we undream our nightmare?
Praise For…
---
"The virtues of How the End Begins are numerous and impressive . . . this is a deep meditation on the role, meaning, and possible consequences of nuclear weapons in our time."
—Michael Anton, The Weekly Standard



"Is there a scenario in which nuclear retaliation would be moral? Rosenbaum's answer is a definitive no. Any reader of this upsetting book will be convinced that he's right."
--Nathaniel Rich, The Daily Beast