Wicked Beat (Sinners on Tour) (Paperback)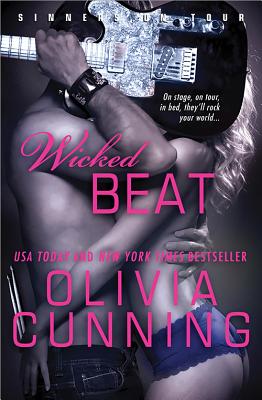 Find us on Bookshop.org to order!
Description
---
He's the last person she expected to fulfill her most decadent role-playing fantasies.
When Rebekah Blake accepts a position as Sinners' new soundboard operator, she's determined to seduce the band's rhythm guitarist, who she's always had a crush on. With her self-esteem in tatters after cancer treatments, Rebekah craves someone's interest. But Trey Mills only looks good to Rebekah in theory. When he can't give her what she needs, who will step in?
From the moment he lays eyes on Rebekah, Eric Sticks is completely smitten. It's as if fate dropped his perfect woman right in his lap. He showers her with attention. He wants her. Desperately. When he finally gets her, the pair of kinky lovers will have to overcome their inner demons if they want to take their relationship to the next level...
Praise for Wicked Beat:
"A must-read for fans and newcomers alike." —RT Book Reviews, 4 ½ Stars, Top Pick of the Month
"As expected, Olivia Cunning brought the attitude, the atmosphere, the chemistry and the camaraderie I've come to expect from her writing." —LeAnn's Book Reviews
"This story has it all." —The Steamy Side
About the Author
---
Raised on hard rock music, award-winning author Olivia Cunning has been known to travel over a thousand miles to see a favorite band in concert. She discovered her second love, romantic fiction, as a teen--first, voraciously reading steamy romance novels and then penning her own. She lives in Quincy, Illinois.
Praise For…
---
"A must-read for fans and newcomers alike. 4 ½ Stars, Top Pick of the Month" — RT Book Reviews

"I LOVE this series. The men are hard as stone and brutally passionate when they find love. " — Rom Fan Reviews

"This story has it all. Off the charts chemistry and sex scenes that will have you on fire, sentimental and emotional moments that will have you tearing up, and of course its the Sinners, so there are bound to be a couple of WTF moments. " — The Steamy Side

"This is one of my very favorite contemporary series." — Books Like Breathing

"If you like erotica with a touch of romance thrown in, then you'll really enjoy this book." — The Good, The Bad and The Unread

"I would wholeheartedly recommend Wicked Beat." — Book Savvy Babes

"As expected, Olivia Cunning brought the attitude, the atmosphere, the chemistry and the camaraderie I've come to expect from her writing. " — LeAnn's Book Reviews

"Wicked Beat was worth the wait." — Hesperia Loves Books

"Wicked Beat has everything you have come to expect from Olivia Cunning's Sinners On Tour Series. Gorgeous Rockers and tons of kink." — White Zin Bookends

"We are sorry Sed, but Eric has replaced you in our hearts. We fell in love with the romantic drummer the moment he saw Rebekah. He knows what he likes and what he wants." — Lit. 4 Ladies

"This book was five fabulous stars worth of Sinners" — The Boyfriend Bookmark

"You will also see that Eric Sticks is not only unbelievably talented on stage, but also in the bedroom" — Menage A Book Blog

"Mrs. Cunning a lot of kudos for making this an intense ride full of laughter, steamy make out sessions, raunchy sex and friendship bonds that only demonstrates her complete mastership of hot erotica writing." — My Secret Romance

"It was a good way to end the series. Now I want to re-read the entire series in order." — Let's Get Romantical

"Eric Sticks, you may just be my number one Sinner." — Scandalicious Book Reviews

"Wicked Beat was a fantastic addition to the Sinners series." — Reading Angels

"Olivia Cunning had me at hummina hummina hummina. I'm not kidding, that's my favourite phrase, EVER. Also, I've got to mention that amazing cover, so gorgeous!" — Rookie Romance

"These books were so enjoyable to read and I loved each of their stories. " — SMI Book Club

"Olivia Cunning is amazing and hit it out the park." — Confessions of a Book

" Eric Sticks is hot, HOT HOT!" — Under the Covers Book Blog

"Holy Drumsticks! All along in reading the Sinners series, I was sure Trey was my favorite.. or Jace.. no Trey.. Yeah, Trey. Then I go and read Wicked Beat and now I don't know which way to turn" — Book Boyfriend Reviews

" If you haven't read about Sinners and you like your heroes brilliantly quirky and your romance with lots of sex, more sex, and rock & roll, Wicked Beat is just the erotic romance for you!" — Grave Tells

"Enjoy the heat, and the passion that we've come to appreciate from these rockers and the nice bit of kink." — Eager Reader

"As always a great book from Olivia. " — The Romance Cover

"Olivia Cunning does it again." — Fanciful Reverie Reviews

"Sinners on Tour is a deliciously sexy collection of stories, and the latest addition, Wicked Beat, is no exception. " — That's What I'm Talking About

"Oliva Cunning's newest novel, Wicked Beat, is full of that humor that only Eric Sticks can pull off but is also loaded with hot sex…sex that involves lots of toys and role play. Cunning never fails to go above and beyond readers expectations. Sinfully good. - See more at: http://thebookreadinggals.com/2013/08/wicked-beat-by-olivia-cunning.html#sthash.XUiYAp5P.dpuf" — The Book Reading Gals

"I thoroughly enjoyed reading Wicked Beat, it was the kind of read that make you wish you could sit all day alone and get lost in the world Ms Cunning created." — Shh Moms Reading

"You get the expected amazingly hot sex (and TONS of it) but you also get a sweet love story and get to watch two people find real happiness with each other." — My Daily Romance

"Wicked Beat is an overall entertaining read that nicely wraps up Olivia Cunning's Sinners on Tour series. I'm gonna miss these sexy rockers and the women who won their hearts!" — Book Reviews & More by Kathy