Before the Coffee Gets Cold (Hardcover)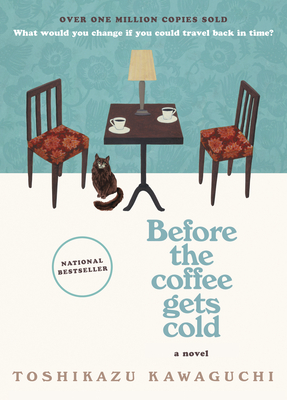 Staff Reviews
---
"Before the Coffee Gets Cold" is strangely wonderful. There's a café in Japan that is said to allow its visitors to travel back in time... IF they follow the rules. These seemingly arbitrary rules include, but are not limited to, 1) in the past, you can only visit the café, 2) you can only see people in the past that also visited the café, 3) you can only travel back in time if a particular woman in a certain seat gets up, 4) you have to stay in that seat the entire time you're in the past, and 5) you have to drink all the coffee in your cup before it gets cold. Additionally, nothing you do in the past will change the future. Because of these rules, many people opt not to travel back in time. However, in these pages, four people, for various reasons, choose to, and by the end of each story, you'll have found that each of them has nuzzled their way into your heart and aren't planning on leaving anytime soon. I would highly recommend reading this with a hot cup of coffee, but that's just me.
— Hannah Z.
Before the Coffee Gets Cold is the perfect cozy read to curl up with. The premise revolves around a cafe in Japan with the magical power to allow its visitors to travel back in time, albeit with a few rules. The most affecting rules are that you can only visit people who've been to the cafe before, and that the future won't change no matter what you do. The book follows four people who, for reasonings varying from a breakup to the death of a sibling, travel back in time using the cafe's magic. Charming and whimsical. and altogether a lovely read.
— Emily M.
December 2020 Indie Next List
---
"This was the most interesting and wholesome take on time travel I have ever read. Everything in the world is totally normal, but if you sit in a specific seat in a specific cafe in Tokyo, you can travel back in time. There are some rules in order to time travel, but my favorite one? You can only stay in the past for as long as your coffee is warm. This charming and emotional story of four different women teaches about the importance of making the most with the time you're given."
— Lauren Suidgeest, Schuler Books (Grand Rapids), Grand Rapids, MI
Description
---
*OVER ONE MILLION COPIES SOLD*
*NOW AN INTERNATIONAL BESTSELLER*
If you could go back, who would you want to meet?In a small back alley of Tokyo, there is a caf that has been serving carefully brewed coffee for more than one hundred years. Local legend says that this shop offers something else besides coffee--the chance to travel back in time.
Over the course of one summer, four customers visit the caf in the hopes of making that journey. But time travel isn't so simple, and there are rules that must be followed. Most important, the trip can last only as long as it takes for the coffee to get cold.
Heartwarming, wistful, mysterious and delightfully quirky, Toshikazu Kawaguchi's internationally bestselling novel explores the age-old question: What would you change if you could travel back in time?