Vinyl Resting Place: The Record Shop Mysteries (Mass Market)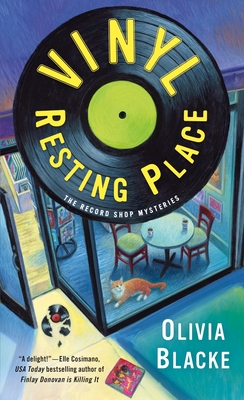 Find us on Bookshop.org to order!
Other Books in Series
This is book number 1 in the The Record Shop Mysteries series.
Description
---
First in a new series by Olivia Blacke, Vinyl Resting Place follows three sisters who discover that opening a family business can be murder.

"A charming cozy for a new generation of mystery readers . . . Vinyl Resting Place is a delight!" –Elle Cosimano, USA Today bestselling author of Finlay Donovan Is Killing It

"Vinyl Resting Place is bolstered by the sisters' genuine bond, colorful personalities, and not-so-gentle conflicts. It's a winning combination." -New York Times Book Review

When Juni Jessup and her sisters Tansy and Maggie put all their beans in one basket to open Sip & Spin Records, a record-slash-coffee shop in Cedar River, Texas, they knew there could be some scratches on the track, but no one was expecting to find a body deader than disco in the supply closet.

Family is everything to the Jessups, so when their uncle is arrested by Juni's heartbreaking ex on suspicion of murder, the sisters don't skip a beat putting Sip & Spin up for bail collateral. But their tune changes abruptly when Uncle Calvin disappears, leaving them in a grind. With their uncle's freedom and the future of their small business on the line, it's up to Juni and her sisters to get in the groove and figure out whodunit before the killer's trail—and the coffee—goes cold.

Music and mocha seem like a blend that should be "Knockin' On Heaven's Door," but caught up in a murder investigation with her family and their life savings on the line, Juni wonders if she might be on the "Highway to Hell" instead.
About the Author
---
OLIVIA BLACKE (she/her), author of the Record Shop Mysteries, beginning with Vinyl Resting Place, and the Brooklyn Murder Mysteries, finally found a way to put her Criminology degree to good use by writing quirky, unconventional, character-driven cozy mysteries. Olivia is a little nerdy, a lot awkward, and just the right amount of weird. She is a recovering ex-Texan who resides with her husband Potassium and Baileycakes, their roly-poly rescue puggle. When not writing, reading, or spending way too much time on social media, Olivia enjoys Amigurumi crochet, SCUBA diving, collecting tattoos, watching hockey, and baking dog cookies. She wants to be a unicorn when she grows up.
Praise For…
---
A LibraryReads December 2022 Bonus Pick!
An Aunt Agatha's "Best Cozy of 2022"!

"Cozy enthusiasts will find a lot to love in this title . . . Readers will also enjoy getting to know the Jessup sisters, especially Juni, and the developed cast of supporting characters in cedar River. The many music-related puns and the family high jinks add humor to the story."–Library Journal

"A well plotted mystery. Juni is a great, funky character, who rides around town on a lime green trike and changes out her glasses to go with her outfits. This is a terrific, lively series opener."-Mystery Scene Magazine

"Juni's a great storyteller, the small-town Texas-ness of it all is lots of fun, and there's not one but two possible romances. What else could you ask for?"–First Clue

"What fun! I loved tagging along with Juni Jessup as she navigated a love triangle, quirky family high jinks, and a mystery at the family record shop. A great start to a new cozy mystery series. I'm already looking forward to the next book in the series."–Gigi Pandian, USA Today bestselling author of Under Lock and Skeleton Key

"Rockin' music, taco trucks, pun-tastic coffee drinks, family bonds, and a twisty mystery to boot! What's not to love about Vinyl Resting Place? A fantastic start to the Record Shop Mystery series, which is definitely an auto-buy for me from now on. Can't wait for the next one!"–Mia P. Manansala, author of the Tita Rosie's Kitchen Mystery series

"A resurrected record store, family drama, an old flame, and a body in a storage closet—this gripping mystery is sure to top the charts."–Diane Kelly, author of the House Flipper series

"A fun, engaging mystery is the basis of Olivia Blacke's new cozy mystery series, and it's only made better by a host of great characters, lively banter, and a Texas-sized helping of charm! I loved this book and I'm looking forward to more adventures with Juni and her sisters in the future!"–S.C. Perkins, author of the Ancestry Detective mysteries