Killing the Killers: The Secret War Against Terrorists (Bill O'Reilly's Killing Series) (CD-Audio)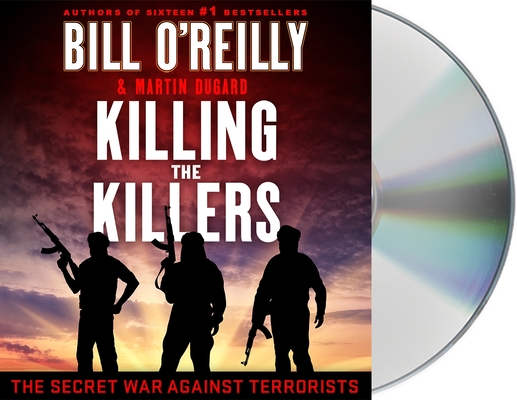 Find us on Bookshop.org to order!
Description
---
In the eleventh audiobook in the multimillion-selling Killing series, Bill O'Reilly and Martin Dugard reveal the startling, dramatic story of the global war against terrorists.

In Killing The Killers, #1 bestselling authors Bill O'Reilly and Martin Dugard take listeners deep inside the global war on terror, which began twenty years ago on September 11, 2001.

As the World Trade Center buildings collapsed, the Pentagon burned, and a small group of passengers fought desperately to stop a third plane from completing its deadly flight plan, America went on war footing. Killing The Killers narrates America's intense global war against extremists who planned and executed not only the 9/11 attacks, but hundreds of others in America and around the world, and who eventually destroyed entire nations in their relentless quest for power.

Killing The Killers moves from Afghanistan to Iraq, Iran to Yemen, Syria, and Libya, and elsewhere, as the United States fought Al Qaeda, ISIS, and the Iranian Revolutionary Guard, as well as individually targeting the most notorious leaders of these groups. With fresh detail and deeply-sourced information, O'Reilly and Dugard create an unstoppable account of the most important war of our era.

Killing The Killers is the most thrilling and suspenseful audiobook in the #1 bestselling series of popular history books (over 18 million sold) in the world.

A Macmillan Audio production from St. Martin's Press
About the Author
---
BILL O'REILLY's success in broadcasting and publishing is unmatched. He was the iconic anchor of The O'Reilly Factor, the highest-rated cable news broadcast in the nation for 16 consecutive years. His website BillOReilly.com is followed by millions all over the world, his No Spin News is broadcast weekday nights at 8 and 11 (ET) on The First TV, and his O'Reilly Update is heard weekdays on more than 225 radio stations across the country. He has authored an astonishing seventeen #1 bestsellers; his historical Killing series is the bestselling nonfiction series of all time, with over 18 million books in print. O'Reilly has received a number of journalism accolades, including three Emmys and two Emmy nominations. He holds a History degree from Marist College, a master's degree in Broadcast Journalism from Boston University, and a master's degree from Harvard's John F. Kennedy School of Government. O'Reilly lives on Long Island where he was raised. His philanthropic enterprises have raised tens of millions for people in need and wounded American veterans.

MARTIN DUGARD is the New York Times bestselling author of several books of history, among them the Killing series, Into Africa, and The Explorers. He and his wife live in Southern California with their three sons.

Robert Petkoff has won multiple AudioFile Earphones awards for his acclaimed narrations. He was named Best Voice of Fiction & Classics for his reading of The Evolution of Bruno Littlemore by Benjamin Hale. His other narration credits include Oath of Office by Michael Palmer, Gangster Squad by Paul Lieberman, and books by David Foster Wallace.Petkoff has appeared on Broadway, Off-Broadway, and in theaters across America and Europe.  He has worked in television and film. His theater credits include Lord Evelyn Oakleigh in the Broadway production of Anything Goes, Perchik as part of the Tony-nomianted cast of Fiddler on the Roof, and Hubert Humphrey in the Tony award-winning play All the Way. He has also had numerous roles in television on shows such as Law and Order and Married with Children.