Bosstown: A Novel (A Bosstown Novel #1) (Hardcover)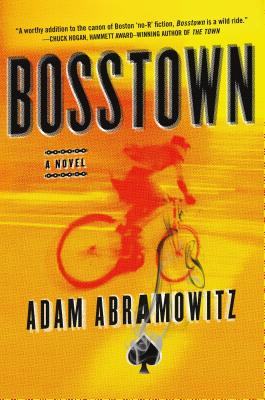 $39.99
Available to Ship from Distributor's Warehouse
Other Books in Series
This is book number 1 in the A Bosstown Novel series.
Description
---
"Abramowitz brings Boston alive with rich descriptions and caffeine-fueled dialogue." —Publishers Weekly
Zesty Meyers is Bosstown's fastest bike messenger—caffeine fueled, wise-cracking and reckless—accustomed to hurtling through Boston's kamikaze streets at breakneck speed, always just a bumper or car door away from disaster.
Will Meyers is Zesty's father, Beantown's former backroom poker king and political fixer, who is suffering from Alzheimer's and a growing dread that the Big Dig, carving its way through some of the city's toughest neighborhoods, will expose the bodies and secrets he'd assumed were buried forever.
When the heist of an armored truck goes violently wrong, Zesty is forced to navigate a gritty underworld of gangsters and blood money, desperately trying to outrace his family's criminal past and stay alive in a changing city where death loiters on every corner and the odds of survival have narrowed to pulling a straight flush on the river.
Adam Abramowitz's Bosstown, a local treat, is a story of harrowing high speeds, desperately high stakes and more twists than a Boston street. For Zesty, it's the toughest ride yet—and every path leads home.
About the Author
---
ADAM ABRAMOWITZ grew up in Allston and Boston's South End working as a courier, bartender, doorman, and long-time mover at Nick's Cheap and Friendly Moving Company. A graduate of the University of Massachusetts Boston, Adam currently teaches in Mount Vernon, New York and is the author of Bosstown. He splits his time between New York City and Northfield, Massachusetts.
Praise For…
---
"The Big Dig is underway and the urban renewal that's following in its wake threatens to reveal Boston's long-buried secrets, in Abramowitz's promising debut. Abramowitz brings Boston alive with rich descriptions and caffeine-fueled dialogue." —Publishers Weekly
"This book is a caffeine and poker fueled adrenaline rush that I could not put down until the last twisting, violent hand had played out."
—Sarah Silverman, stand-up comedian, actress, producer, and writer
"A worthy addition to the canon of Boston 'no-R' fiction, Bosstown is a wild ride."
—Chuck Hogan, Hammett Award-winning author of The Town
"Robert B. Parker meets Hunter S. Thompson… and the result is a jet-fueled crazy-good mystery that careens through Boston with a voice that won't quit—and winds up in a place no one could ever predict. Wildly unique, this brave new take on a traditional genre is captivating, hilarious, and darkly brilliant."
—Hank Phillippi Ryan, Agatha, Anthony and Mary Higgins Clark Award-winning author of Say No More.
"The plot moves as fast as the bike messenger at its center, weaving through a sordid cast of characters, down the roughest streets of Boston. Hard boiled and fun, in the tradition of Mickey Spillane and George V. Higgins."
—James Renner, author of True Crime Addict and The Man from Primrose Lane
"the book has a long, long memory for Boston rock clubs (some of them wiped out in fires of suspicious origin) and the bands of the city's punk era (extra points for name-checking the great all-female metal group Malachite, which, at its glorious best, was louder than God) as well as a rueful sense of what gentrification hath wrought and of Boston's seemingly intractable segregation." —Kirkus Reviews
"Abramowitz has penned a fast-paced thriller that will keep you guessing until the last page." —Westchester Magazine
"Adam Abramowitz's debut starts strong with Zesty's lively voice elevating the story...Abramowitz's view of Boston is spot-on and the dialogue sharp." —Mystery Scene
"The hyped-up bike messenger Zesty Myers drives the compulsive narrative of Adam Abramowitz's streetwise debut Boston crime novel." —Shelf Awareness
"Everything from the action-packed, caffeine-ridden main character to the amazing realm of Boston practically jumps off the pages. The author shows it all and gifts the reader with a truly wild ride." —Suspense Magazine
"If it's an updated twist on an old-fashioned whodunit that you're looking for, Bosstown delivers the goods with a "Bawstin" accent." —Jerusalem Post Review