Rugby for Dummies (Paperback)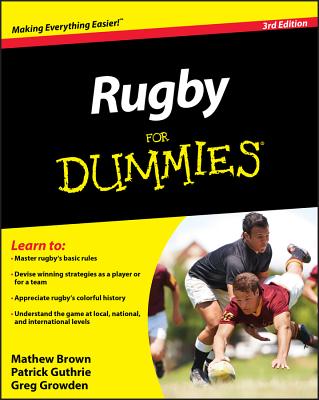 Description
---
The official guide to rugby in North America, revised and updated
Rugby For Dummies is the guide to rugby in North America, endorsed by USA Rugby and Rugby Canada, the official regulating bodies for the sport. It gives you a look at how rugby is played, offers strategies for winning, and covers every level of the sport, from high school to college (including women's rugby) to the international leagues. Plus, this new edition addresses changes to the rules of rugby, includes new rugby player bios, and looks at rugby's upcoming return to the Olympic games.
Inside you'll find easy-to-understand explanations of rugby rules and positions, plus in-depth lessons on skills, fitness training, and winning techniques. Add in entertaining stories from rugby in North America and around the world, and you've got the definitive book on rugby
Covers every level of the sport
Includes the latest rules and information on rugby
Discusses rugby's return to the Olympic games
Whether you're new to rugby or a scrum veteran, this friendly guide is for you.
About the Author
---
Mathew Brown is the producer and host of Rugby World on Fox Soccer Plus. Patrick Guthrie is the Director of Broadcast and Sports Development for the City of Glendale, CO. Greg Growden is a rugby correspondent and author of Gold, Mud 'n' Guts.