Positive Discipline Tools for Teachers: Effective Classroom Management for Social, Emotional, and Academic Success (Paperback)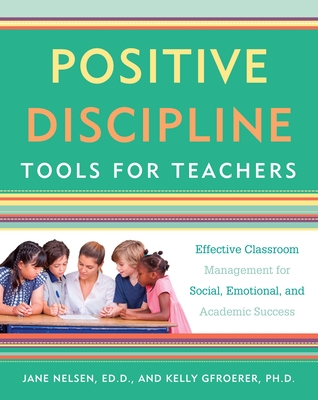 $17.00
Not currently in store. Available to ship from distributor's warehouse.
Description
---
MORE THAN 2 MILLION POSITIVE DISCIPLINE BOOKS SOLD

The Positive Discipline method has proved to be an invaluable resource for teachers who want to foster creative problem-solving within their students, giving them the behavioral skills they need to understand and process what they learn. In Positive Discipline Tools for Teachers, you will learn how to successfully incorporate respectful, solution-oriented approaches to ensure a cooperative and productive classroom. Using tools like "Connection Before Correction," "Four Problem-Solving Steps," and "Focusing on Solutions," teachers will be able to focus on student-centered learning, rather than wasting time trying to control their students' behavior. Each tool is specifically tailored for the modern classroom, with examples and positive solutions to each and every roadblock that stands in the way of cooperative learning.
 
Complete with the most up-to-date research on classroom management and the effectiveness of the Positive Discipline method, this comprehensive guide also includes helpful teacher stories and testimonials from around the world. You will learn how to:
 
- Model kind and firm leadership in the classroom
- Keep your students involved and intrinsically motivated
- Improve students' self-regulation
-And more!
About the Author
---
JANE NELSEN, Ed.D, coauthor of the bestselling Positive Discipline series, is a licensed marriage, family, and child therapist and an internationally known speaker.

KELLY GFROERER, Ph.D., Director of Training and Research at the Positive Discipline Association, is co-author of Positive Discipline Teacher Tool Cards and a licensed professional counselor and educational consultant.
Praise For…
---
"What has impressed me the most about Positive Discipline is its philosophy of optimism in students taking ownership of their behavior. Supporting this philosophy, Positive Discipline Tools for Teachers offers a plethora of teacher tools and practices that are effective and applicable for all age groups."  
-Joseph P. Marshall, head of Trinity School

"As a PK-8 principal in an urban public school, I've found Positive Discipline Tools for Teachers to be both eminently accessible and incredibly powerful. When implemented well, the tools shared here have the power to transform student lives, teacher practice, classroom communities, and your school." 
-Nate Manaen, principal 

 "This book should be in every guidance counselor's toolbox. If the leadership in every school implemented this classroom management style, it would make their jobs a lot easier!" 
-Nancy Page, director of guidance at St. Johns Country Day School

"To meet the social, emotional, and academic needs of the children in my classroom, I rely on Positive Discipline methods to inspire and motivate students to be active members of our classroom community. The easy to implement tools in Positive Discipline Tools for Teachers make an immediate impact, allow opportunities for engaged learning, as well as equip students with strategies to be solution seekers, creative thinkers, ethical decision makers, and collaborators who know how to communicate effectively and respectfully."  
-Margaret Gunter, fourth grade teacher at Mount Vernon Presbyterian School, Atlanta, GA

"We have been using Positive Discipline in our school since we opened in 1999 because the respectful, holistic Positive Discipline approach fits so well with the Montessori philosophy. The clearly defined tools in this book, with real-life examples on how to effectively and realistically implement the tools when working with children, will help many teachers experience the success we have enjoyed."
-Karen Simon, director of Montessori School of Celebration