Choosing Life: My Father's Journey in Film from Hollywood to Hiroshima (Paperback)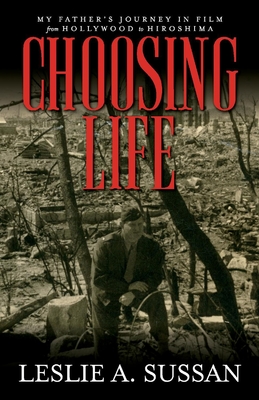 $16.99
Not currently in store. Available to ship from distributor's warehouse.
Description
---
In 1946, with the war over and Japan occupied, 2nd Lt. Herbert Sussan received a plum assignment. He would get to use his training as a cinematographer and join a Strategic Bombing Survey crew to record the results of the atomic bombings in Nagasaki and Hiroshima. From his first arrival in Nagasaki, he knew that something completely novel and appalling had happened and that he had to preserve a record of the results, especially the ongoing suffering of those affected by the bomb (known as hibakusha) even months later.
When the U.S. government decided that the gruesome footage would not be "of interest" to the American public and therefore classified it top secret, he spent decades arguing for its release. His last wish was that his ashes be scattered at ground zero in Hiroshima.
The author, his daughter, followed his footsteps in 1987, met survivors he had filmed more than 40 years before. And found that she met there a father she never really knew in life.
This book recounts Herbert Sussan's experiences (drawn directly from an oral history he left behind), his daughter's quest to understand what he saw in Japan, and the stories of some of the survivors with whose lives both father and daughter intersected. This nuclear legacy captures the ripples of the atomic bombing down through decades and generations.
The braided tale brings human scale and understanding to the horrors of nuclear war and the ongoing need for healing and peacemaking.
About the Author
---
?Leslie A. Sussan was born and raised in Manhattan, and now lives in Silver Spring, Maryland, with her daughter Kendra and their cat, Neko-chan. She was born and raised in New York City and graduated from Bryn Mawr College and Georgetown Law School. Over a long career as an attorney, she litigated for the U.S. Department of Justice, represented migrant farmworkers and abused children, and has now served for fourteen years as an administrative appellate judge for the federal government. (Everything written here, however, reflects only her own work and not any government position.) She attends Bethesda Friends Meeting. She loves to learn about different cultures through books and travel; she cannot carry a tune or follow a recipe. She and Kendra lived in Hiroshima for a year in 1987-88 and have visited Japan many times since.?Greg Mitchell is an author and journalist who has published twelve non-fiction books on many aspects of United States history. He wrote the 2011 book, Atomic Cover-Up: Two U.S. Soldiers, Hiroshima & Nagasaki, and The Greatest Movie Never Made, and co-wrote, with Robert Jay Lifton, the 1996 book Hiroshima in America. In the 1980s, he edited Nuclear Times magazine. His latest book is The Beginning or the End: How Hollywood--and America--Learned to Stop Worrying and Love the Bomb, and he is completing a documentary on the footage shot by Herbert Sussan and the other American and Japanese filmmakers.