Psychos in Love (Paperback)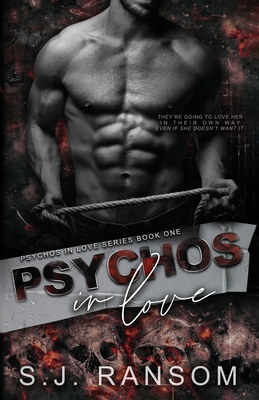 Find us on Bookshop.org to order!
(This book cannot be returned.)
Description
---
Charlotte
I shouldn't have witnessed the murders.
But I did.
And now I can't escape the men who want nothing more than to make me pay for being in the wrong place at the wrong time.
Kronos, Hypnos, and Ayres hold my life in their hands. And they just so happen to live by the motto of Leave No Witnesses.
They are psychos who love nothing more than death and destruction, but for some reason I've intrigued them enough to be kept as their pet.
They want my submission but I'll do anything to get my freedom.
Kronos
I'm under her spell as she struggles to break free. Her eyes haunt me in ways I've never experienced. But she's the sole witness to our crime, and she has to die.
Eventually.
Right now, all I can think about is sinking my cock inside of her, claiming her for all of eternity.
Am I crazy?
Fuck yes, I am.
Especially when it comes to her.
Hypnos
I instantly fell for her but no one needs to know that.
She's smart - too smart for her own good.
The moment she tried to fight us, my heart woke up from its dull existence.
There was no satiating my desire for her once I took her virginity with my tongue.
Ayres
I shouldn't have called her Kitten.
I most certainly shouldn't have wanted her to call me Daddy.
But those sorrowful eyes nagged at me in unexplainable ways.
My own demise from keeping my distance from her dissipated the moment she gave herself to me.
Unwillingly?
Yes, but she liked it.