Along the Way: A Green Beret shares stirring stories of those he met and those who supported him in Vietnam - Tet 1968 (Paperback)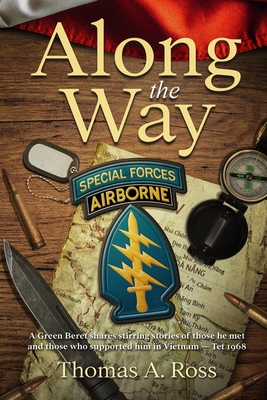 $19.95
Not currently in store. Available to ship from distributor's warehouse.
Description
---
"Along the Way" is a collection of bright uplifting stories about wartime service during one of the most negative and controversial periods in American history.
Soldiers did not commit the U.S. military to war in Vietnam. However, young Americans bore the brunt of that commitment on both foreign battlefields and in their own hometowns when they returned. Not only did the soldiers fight battles against an enemy who hated them, but upon returning home they often faced countrymen who seemed to hate them as well.
Few Americans who served in Southeast Asia were pot smoking, cursing, killing machines, as they have too often been portrayed. Most were warm and sensitive sons, brothers, husbands, and fathers who had traveled far from their homes to help a country in its fight for freedom.
The great majority of the more than three million men and women who spent time in Vietnam were decent people who either felt they were fulfilling their patriotic duty or simply believed they were serving their country. Most of them were young, either still in or scarcely out of their teens when they were asked to shoulder heavy responsibility and face life-and-death situations, some of them on a daily basis.
"Along the Way" is a firsthand account of the many acts of selfless heroism and courage witnessed a young Special Forces (Green Beret) military adviser during his tour of duty in a surprisingly picturesque Southeast Asian nation.
These are stories that others have said made them proud to be an American.