There's More Bodies Out There: The true story of a Mafia associate and a cop who emerge as suspected serial killers (Paperback)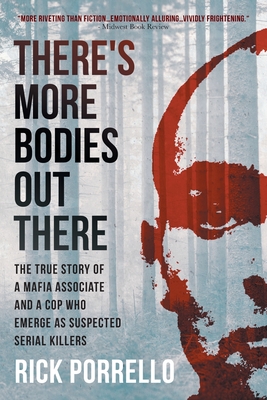 Find us on Bookshop.org to order!
Description
---
Richard Henkel claims he murdered twenty-eight people. The Kill the Irishman author, a former police chief, wanted details. So, he asked.
"At first, Henkel politely declined my request," Rick Porrello said. "Six months later, I persisted and sent him a page of questions based on my three years of investigative research. He claimed there were significant inaccuracies about him, his crew members, and even some of his alleged victims. And he wanted to correct them. In our ten months of communication, Henkel was usually candid, but when it came to his associates, especially ex-police officer Gary Small, he was tight-lipped. And when I occasionally pushed too hard, he became angry. However, Henkel said he did not lie once to me."
Under a convincing veneer of normalcy lurks the real Richard Henkel. Federal parole authorities deemed the incarcerated bank robber psychologically stable and ready to make positive contributions to society.
They got it wrong.
Henkel operated within the underworld of the 1970s-the well-entrenched Pittsburgh and Youngstown Mafia with their interstate connections and a loose network of drug dealers, burglars, and pimps. Ex-convict Jack Siggson, and police officer Gary Small found him to be loyal. Dick would never rat out a pal. Though he might kill him. Or her.
In the background of Richard Henkel's world were the "rub and tug" sex shops that politicians tried in vain to regulate and mob-connected operators would kill to control.
Some of the women in Richard's life also had rocky backgrounds. He met their needs, be it cash or a place to live. Suzanne Dixon became his fianc e. Her best friend, like a little sister, really, was Sasha Scott whose tragic childhood led to her becoming a valued and beloved prostitute working out of mobster Joey DeMarco's storied Court Lounge, and Gemini Spa, the notorious massage parlor. Richard may have saved Sasha's life, but she did not recognize the twists in his plot. For Debbie Gentile, Richard provided employment, and she believed she was emerging from her longtime financial struggles.
Richard Henkel's victims were numerous but not random. He was not the stereotypical serial killer who worked alone and slaughtered for twisted motives of sexual pleasure or power. And Richard's victims usually were not without their own sins.
Intensified by the author's ten months of questioning Richard E. Henkel, There's More Bodies Out There is the always compelling and often maddening story of one of the most dangerous con artists in US history, those who fell victim to his venom, and the lawmen who persevered to serve justice.