In the Eye of the Storm: My Time as Chairman of Bank of America During the Country's Worst Financial Crisis (Paperback)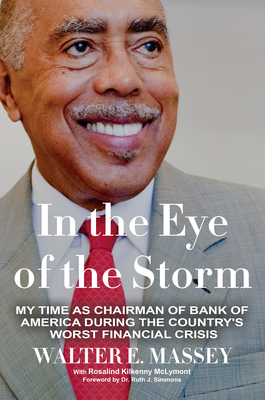 Find us on Bookshop.org to order!
Description
---
Chosen chairman of Bank of America in 2009, Walter Massey is the first banking insider to reveal the inner workings behind the country's colossal financial crisis in 2008. But his intimate memoir is more than a revelation about those perilous years of the American economy.
Comprehensive, intimate, and revealing, his is an eloquent testimony to the importance of determination and hard work, and the supremacy of American promise. Coincidence and happenstance play their roles too. Beginning with a flashback to those wobbly years as Bank of America Chairman, Massey draws a map of the thrills, challengesƒƒ''ƒ''"ƒƒ''ƒ''€ƒƒ''ƒ''"and failures tooƒƒ''ƒ''"ƒƒ''ƒ''€ƒƒ''ƒ''"of his ascendancyƒƒ''ƒ''"ƒƒ''ƒ''€ƒƒ''ƒ''"a rise that he terms triumphs. A psychologically devastating divorce, parental alcoholism, and racist threats against his life may have fractured, but not broken his tenacity.
In tender and sober terms, he portrays people who, on the one hand, instilled in him enduring life lessons, and on the other hand, enriched him with sincere friendship.