Every Room in the Body: Poems (Paperback)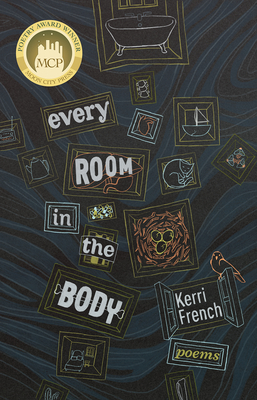 Find us on Bookshop.org to order!
Description
---
Every Room in the Body, winner of the 2016 Moon City Poetry Award, gives an intimate look at the body not only as spirit, but also as the house of blood and bone that makes life and betrays life. It is a complex sequence of poems addressing a difficult pregnancy, but more specifically, the dynamic between the body, nature embodied, and expectations. There is sadness, yes, but also a calm assessment of the process and the days, good and bad, that ends with a quiet joy. As French says in the preface poem "Residence," "Here is a map/ that multiplies her hunger. Here// is the sound where it all began." Begin with her and trace the days.
About the Author
---
Kerri French is the author of Instruments of Summer, a chapbook of poems about Amy Winehouse. Her poems have appeared in Washington Square Review, Copper Nickel, The Journal, Mid-American Review, PANK, Barrow Street, DIAGRAM, and the Best New Poets anthology, among others. She lives outside of Nashville, Tennessee.
Praise For…
---
"You're told your baby will be/ born but maybe not alive." These lines drill to the marrow of Kerri French's Every Room in the Body, which narrates, in gorgeous lyrics, a particularly high-risk pregnancy. Here the body is both home and captor. There's a terrific strangeness in the language, yet the movement of each poem is so deft, so controlled. Every Room in the Body is a visionary, haunting book.
—Maggie Smith, author of The Well Speaks of Its Own Poison

"Entering Kerri French's masterful debut collection Every Room in the Body is like walking through a door into a new world, one in which we find ourselves following "a map to every room/ in the body," which we discover is a world onto itself. It's not just that these poems talk to the interiority of our lives that I find so astounding, it's that I believe these poems are the map, which surprises me with every line, navigating us through the most challenging terrains of our lives. As a reader, this is the collection I've been waiting for, and "the waiting was like a dance/ inside me." The dance on these pages, though, is one between the wisdom of an old soul and the nimbleness of a dancer in her prime."
—A. Van Jordan, author of The Cineaste

"Nathaniel Hawthorne describes happiness as living throughout one's whole range of one's faculties and sensibilities. By this description, Kerri French's wonderful debut collection, Every Room in the Body, is a happy book. Even though its subject is a heart-wrenching illness during pregnancy, and every line of every poem is haunted by the unpredictable contingencies of mortal bodies that need to give and receive love, this is a happy book because the poems live so fully in the presence of what menaces our bonds and affections. These poems range over an impressive variety of styles, from the plainspoken to the surreal, the everyday to the dreamlike, in their project of giving the fullest possible response to the most difficult and fearful things."
—Alan Shapiro, author of Life Pig