Enzyme Nutrition: The Food Enzyme Concept (Paperback)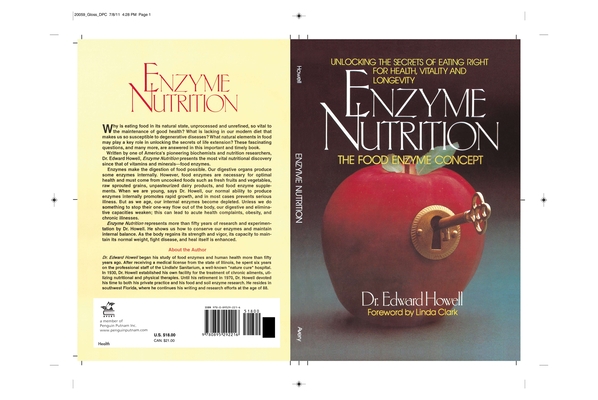 Find us on Bookshop.org to order!
Description
---
Why is eating food in its natural state, unprocessed and unrefined, so vital to the maintenance of good health? What is lacking in our modern diet that makes us so susceptible to degenerative disease? What natural elements in food may play a key role in unlocking the secrets of life extension? These fascinating questions, and many more, are answered in Enzyme Nutrition.
Written by one of America's pioneering biochemists and nutrition researchers, Dr. Edward Howell, Enzyme Nutrition presents the most vital nutritional discovery since that of vitamins and minerals—food enzymes. Our digestive organs produce some enzymes internally, however food enzymes are necessary for optimal health and must come from uncooked foods such as fresh fruits and vegetables, raw sprouted grains, unpasteurized dairy products, and food enzyme supplements.
Enzyme Nutrition represents more than fifty years of research and experimentation by Dr. Howell. He shows us how to conserve our enzymes and maintain internal balance. As the body regains its strength and vigor, its capacity to maintain its normal weight, fight disease, and heal itself is enhanced.
About the Author
---
Dr. Edward Howell began his study of food enzymes more than eighty years ago. After receiving a medical license from the state of Illinois, he spent six years on the professional staff of the Lindlahr Sanitarium, a well-known "nature cure" hospital. In 1930, Dr. Howell established his own facility for the treatment of chronic ailments, utilizing nutritional and physical therapies. Until his retirement in 1970, Dr. Howell devoted his time to both his private practice and his food and soil enzyme research.  He continued his writing and research efforts up until the time of his death in 1988.