Women as Single Parents: Confronting Institutional Barriers in the Courts, the Workplace, and the Housing Market (Hardcover)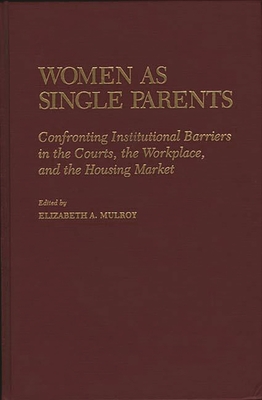 Email orders@tridentbookscafe.com or call for price
Description
---
As Michael Harrington's New American Poverty alerted readers to that problem, so the present collection makes readers aware of the various conditions of single parenting. . . . The institutional barriers of courts, housing, and workplace to the economic well-being of the female single parent are explicitly and directly examined. Solid recommendations for institutionalizing change on the state and federal levels are made. The interdisciplinary expertise of the authors covers the fields of law, social work, urban planning, housing, economics, and public policy, all with solid academic preparation. Charts are clear and concise, and the laguage is direct and concrete. Choice
The single-parent family phenomenon is primarily about households headed by single mothers with minor children. Some perceive this growing family form as a threat to the values of the traditional nuclear family and often stereotype the mothers and their children as problems all too often dependent on public assistance. Others cite an uncaring society that ignores the needs of its more vulnerable members. Stereotypes of single women as parents, however, often significantly misrepresent the reality. Indeed, the very ignoring of the great range of differences that characterize contemporary single mothers has itself led to a large and harmful body of myths that perpetuate and intensify the single parent's problems.
This sensitive, substantive book provides a needed examination of the realities of single parenthood for women. It makes a major contribution toward thoughtful formulation of policies for improving the economic and social well-being of single parents and their children. Scholars and practitioners in the fields of law, social work, urban planning, housing, economics, and public policy address and respond to the many problems, challenges, and barriers that single mothers confront in the courts, in labor markets, and in housing.
About the Author
---
ELIZABETH A. MULROY, a social worker and urban planner, teaches social policy, planning, and management at Boston University School of Social Work, where she is also Director of the Human Services Management Program.