How to Teach Economics to Your Dog: A Quirky Introduction (Hardcover)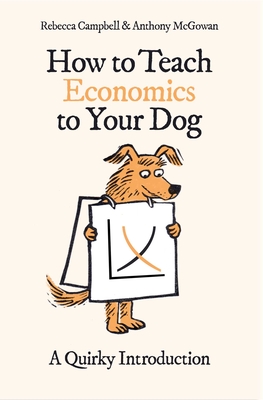 Find us on Bookshop.org to order!
Description
---
A fun take on some of the biggest questions in economics, made accessible for non-experts (and dogs)

Monty is a dog, not a financial genius, but economics still shapes his everyday life.

Over the course of seventeen walks, Dr Rebecca Campbell chews over economic concepts and investigates how they apply to our lives – people and mutts alike. There are no graphs, no charts (Monty can't read them) and definitely no calculus!

How to Teach Economics to Your Dog tackles the knotty question of what economics actually is. Is it a mathematical science like physics? Or a moral and philosophical investigation of how societies should manage scarce resources?

Along the way we meet some of the great thinkers from Adam Smith to Thomas Piketty, and ponder questions such as: What on earth does quantitative easing mean? And why are some countries so much richer than others?
About the Author
---
Dr Rebecca Campbell has a PhD from the London School of Economics where she is currently a Fellow in the Management Department, and Director of Studies of the prestigious Global Masters in Management. Before moving to LSE, she was the designer and CEO of successful fashion company Paddy Campbell. She lives in London.

Anthony McGowan is one of the most widely acclaimed young adult and children's authors in the UK. His books have won numerous major awards. In 2020, he was awarded the CILIP Carnegie Medal for Lark. He was also shortlisted for the Carnegie Medal with Rook and won the Booktrust Teenage Prize and the Catalyst Award for Henry Tumour. His YA novel The Knife that Killed Me was made into a critically-lauded film in 2014. Anthony lives in London, with his wife, two children and dog.
Praise For…
---
'A truly delightful scamper through economic ideas and history.'
— Niall Kishtainy, author of A Little History of Economics

'I have read many introductions to economics, none as entertaining and readily accessible as this one. Monty, you're a lucky dog to have such wonderful teachers!'
— Alexander Pepper, professor of management practice, LSE

'An engaging and at times touching book'
— John Crace

'Economics concepts can often be difficult to grasp, but the authors have done an admirable job of explaining them in plain language … This is one of the few books on economics that works as a textbook while remaining actually readable!'
— Terry Freedman, Teach Secondary

'Enjoyable... This undemanding presentation serves equally well as an introduction or a refresher course and will especially appeal to readers who appreciate their learning enhanced with a bit of whimsy'
— Booklist