An Invitation to the Garden: Seasonal Entertaining Outdoors (Hardcover)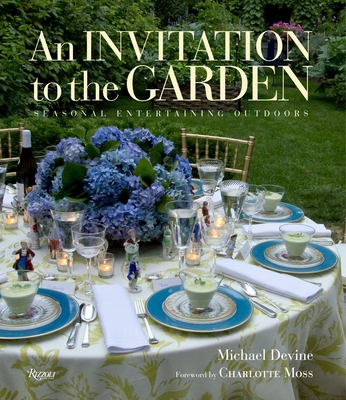 $48.00
Email or call for price.
Description
---
In this indispensable entertaining guide, Michael Devine, a well-known tastemaker, shows how the garden can be a perfect and easily transformable setting to stage enchanted events in every season. Michael Devine shares the joys of outdoor dining in his exquisite garden, presenting several get-togethers throughout the year-from breakfast and lunch to cocktails and dinner. Included are easy-to-prepare recipes as well as lots of ideas for creating festive tablescapes and decor that befit each occasion, from an iridescent butterfly-themed summer luncheon to a Christmas Eve feast in his cozy candlelit garden folly. Each garden event is chic and infused with whimsical effects. This small backyard garden has clipped bushes, trellised climbing roses, potted containers, and raised sprightly vegetable and herb beds, which serve as the source for many of the fresh ingredients for his mouthwatering menus. An array of sensuous blooms for the table is ready for the picking. A charming bagatelle with a thatched roof and a gravel terrace enveloped by the lush garden function as intimate seating areas for his chic parties. This book provides expert guidance and inspiration for readers looking to create their own stylish outdoor parties with ease, whether they are city dwellers with a small plot of land or the owners of country property.
About the Author
---
Michael Devine has an internationally recognized line of hand-printed fabrics. His textiles and gardens have appeared in numerous print and online magazines, including House Beautiful, Elle Decor, Traditional Home, and the Peak of Chic. He is a weekly columnist for Lonny magazine. A celebrated prolific designer and author, Charlotte Moss most recently wrote the successful Charlotte Moss Decorates and A Visual Life. John Gruen is a lifestyle photographer.
Praise For…
---
"From the moment you open An Invitation to the Garden, you feel as though you are Devine's personal guest as you stroll through the lush green landscape and join him at his garden table so elegantly and festively set with creative yet simple menus and ideas to last the year...With 12 sensational menus, over 50 recipes, and peppered with helpful tips and gardening advice, An Invitation to the Garden will inspire you to host your own festive outdoor celebration no matter how large or lush your own garden and budget are." –The Entertaining House

"...a romantic, swoon-worthy alfresco fete" -House Beautiful

"An entertaining guide with both inspirational and practical information, Michael shares menu, floral and presentation tips that can be adapted to any space. Whether you have an ample country garden or grow herbs on an apartment windowsill, you'll be chomping at the bit to plan your next dinner party with all the creative ideas inside. But it isn't just summer pleasures celebrated in the book. Michael shares ideas for all four seasons." –Quintessence
 
"Once this book arrived I was pleasantly surprised to see that in addiction to an abundance of inspirational ideas for outdoor entertaining and beautiful photography, I was also getting a very creative cookbook as well. With fifty mouthwatering recipes included, I know I'll be turning to this chic book for entertaining tips this spring." –Zhush
 
"In this book Michael Devine shares the magic of al fresco entertaining in his stunning gardens and in homes, along with delicious menus, stunning tablescapes and other details that will inspire all sorts of lovely gatherings at home." -Poise

"This gorgeous garden book will get your green thumb in high gear." -KD Hamptons

"Browsing through the lush and colorful pages has me in the mood for outdoor entertaining as soon as the weather allows…Michael takes us through all of the seasons of the year in his own beautifully landscaped garden, with ideas from casual to party to elegant formal entertaining! This book will absolutely delight you!" –The Arts by Karena
 
"Trust us: You want to be invited to a backyard bash at textile designer and style guru Michael Devine's Hudson Valley, N.Y., cottage. He's known for both cooking up fresh-from-the-plot dishes and setting a hip table. He shows off his mad entertaining skills in An Invitation to the Garden." -Express

"Great Read…author Michael Devine shares the joys of outdoor dining in his garden, presenting several get-togethers throughout the year, from breakfast and lunch to cocktails and dinner. It also includes plenty of stylish outdoor entertaining ideas for all types of locations, whether you are a city dweller with a small plot of land or the owner of country property." –Inspired News

"…beautiful book…showcases easy to recreate out-of-doors entertaining…" –Style Beat

"Presenting several get-togethers throughout the year- breakfast, lunch, cocktails and dinner. Lots of ideas for creating festive tablescapes and easy-to-prepare recipes. Chic and whimsical." –Journal Gazette
 
"Devine is a master at garden entertaining." -MissionFood