Pizza: Seasonal Recipes from Rome's Legendary Pizzarium (Hardcover)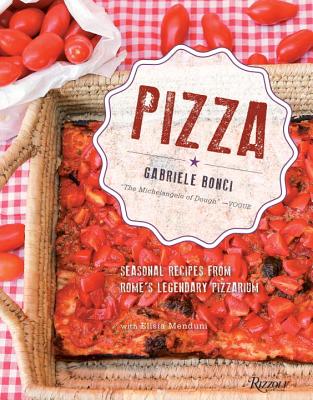 $30.00
Email or call for price.
Description
---
A fresh take on everyone's favorite food, straight from the "Michelangelo of dough" (Vogue). Yeast, flour, and water—from such humble ingredients rises a food that is for many an object of devotion. Here is a cookbook that reveals the secrets of the crust straight from the source in Italy. Gabriele Bonci, known throughout his country as the King of Pizza, operates a small pizzeria in Rome, where for the past ten years he has developed his signature style: making use of stone-milled farro flours, relying on the seasons to determine his unconventional topping combinations (he comes up with more than 1,500 each year), and inventing new techniques for sandwich pizza and fried pizza. The more than eighty recipes here (adapted for the American kitchen) will have pizza geeks' heads spinning: pizza with grilled peaches and chicory; potatoes, eggplant, and rosemary "ash"; asparagus, egg, and lemon; endive, olives, and anchovies. This is Roman-style pizza al taglio—rectangular with an airy, foccacia-like dough that can support an ample topping. Bonci details his process for making dough, including his own sourdough starter. Whether for the expert or novice baker, this book revolutionizes the concept of pizza and introduces flavor combinations that can apply throughout the kitchen.
About the Author
---
Gabriele Bonci was born in Rome and learned the culinary arts in one of the capital's finest restaurants before opening his own pizza shop in 2003. Since 2009, he has been the host of the TV cooking show La Prova del Cuoco. He has been featured in Anthony Bourdain's The Layover, Travel and Leisure, The Atlantic, and The Guardian.
Praise For…
---
"There has never before been a pizza cookbook written by an Italian living in Italy. This gives this book unriavaled authenticity." ~Library Journal

"I've been trying different pizza dough recipes, but what I've really been waiting for is the new book, in English, from Rome's phenomenal pizza master, Gabriele Bonci. Bonci is wildly inventive with his toppings, which are seasonal and change from day to day and week to week. I can see pizza parties every weekend as I work my way through this enticing book." ~LA Times