Making Entomologists: How Periodicals Shaped Scientific Communities in Nineteenth-Century Britain (Sci & Culture in the Nineteenth Century) (Hardcover)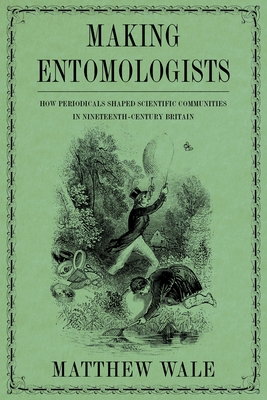 Find us on Bookshop.org to order!
Description
---
Popular natural history periodicals in the nineteenth century had an incredible democratizing power. By welcoming contributions from correspondents regardless of their background, they posed a significant threat to those who considered themselves to be gatekeepers of elite science, and who in turn used their own periodicals to shape more exclusive communities. Making Entomologists reassesses the landscape of science participation in the nineteenth century, offering a more nuanced analysis of the supposed amateur-professional divide that resonates with the rise of citizen science today. Matthew Wale reveals how an increase in popular natural history periodicals during the nineteenth century was instrumental in shaping not only the life sciences and the field of entomology but also scientific communities that otherwise could not have existed. These publications enabled many actors—from wealthy gentlemen of science to working-class naturalists—to participate more fully within an extended network of fellow practitioners and, crucially, imagine themselves as part of a wider community. Women were also active participants in these groups, although in far smaller numbers than men. Although periodicals of the nineteenth century have received considerable scholarly attention, this study focuses specifically on the journals and magazines devoted to natural history.
About the Author
---
Matthew Wale completed his PhD in history at the University of Leicester in 2018. He is a volume editor for the John Tyndall Correspondence Project.
Praise For…
---
"The diverse array of nineteenth-century British entomologists is vividly brought to life in Matthew Wale's lively account. The quirky, the cantankerous, the liberal, the gentlemanly, the mercenary—as well as class and gender differences—are exhibited through the revealing lens of the scientific periodical. Wale convincingly challenges a narrative of professionalization by showing how periodicals both reflected and shaped the key entomological practices that defined the 'imagined communities' they aimed to establish." —Anne Secord, University of Cambridge
"Matthew Wale provides wonderfully fresh insight into vernacular science by deftly combining print history with investigations into the many activities of entomological enthusiasts during the Victorian period. Popular periodicals produced by editors such as Edward Newman and Henry Stainton created a lively hub for practitioners from all walks of life. Wale shows how this community of eager readers can be explored for greater historical understanding of the forms of expertise and participation, as well as the emergence of subtle social divisions that would eventually be expressed in the divide between amateurs and the professional world of museums." —Janet Browne, Harvard University