The Locavore's Kitchen: A Cook's Guide to Seasonal Eating and Preserving (Paperback)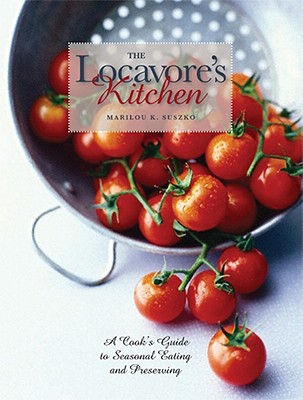 $39.54
Email or call for price.
Description
---
More and more Americans are becoming dedicated locavores, people who prefer to eat locally grown or produced foods and who enjoy the distinctive flavors only a local harvest can deliver. The Locavore's Kitchen invites readers to savor homegrown foods that come from the garden, the farm stand down the road, or local farmers' markets through cooking and preserving the freshest ingredients.

In more than 150 recipes that highlight seasonal flavors, Marilou K. Suszko inspires cooks to keep local flavors in the kitchen year round. From asparagus in the spring to pumpkins in the fall, Suszko helps readers learn what to look for when buying seasonal homegrown or locally grown foods as well as how to store fresh foods, and which cooking methods bring out fresh flavors and colors. Suszko shares tips and techniques for extending seasonal flavors with detailed instructions on canning, freezing, and dehydrating and which methods work best for preserving texture and flavor.

The Locavore's Kitchen is an invaluable reference for discovering the delicious world of fresh, local, and seasonal foods.
About the Author
---
Marilou K. Suszko is the author of Farms & Foods of Ohio: From Garden Gate to Dinner Plate. She is a food writer and local foods advocate whose work appears in numerous newspapers and magazines. She hosts From My Ohio Kitchen to Yours, which airs on all Ohio PBS stations.
Praise For…
---
"A homey, chatty text seamlessly incorporates more than 200 recipes in this book promoting using the freshest locally available ingredients that are in season and preserving them by freezing and canning for use when they aren't in season.… An even-handed guide to preparing and devouring what's in season."—Booklist

"I can't think of a better recommendation for a cookbook."—Cleveland Magazine

"Riding the crest of ever-evolving food trends takes some real ingenuity. This carefully configured cookbook manages to chart the course in an unexpectedly old-fashioned way. For those not in the know, locavore is a newly minted word used to loosely describe one who purchases and eats foodstuffs grown, raised and produced exclusively within a 100-mile radius of home. It's a pretty tall order, one within the expertise of food-savvy Suszko. In her hands, it's just a palate-pleasing turnaround from making do with supermarket food from anywhere to preparing, eating and preserving unadulterated local fare, season by season, as our ancestors did."—Kirkus Reviews

"Suszko's words will inspire readers to realize the possibilities not only in their yards and markets, but in their kitchens…. Before you know it, the reader's purchasing habits and kitchen creations will mirror the availability and abundance of the growing season."—Ohioana Quarterly

"On the 40th anniversary of Chez Panisse, Alice Waters' landmark restaurant in Berkeley, Calif., and epitome of the local foods movement, comes this thoughtfully organized and user-friendly new kitchen resource. I say 'resource' because it is much more than a cookbook. Along with many, many approachable recipes, there is a bounty of beautifully presented information."—Ohio Today

"On the 40th anniversary of Chez Panisse, Alice Waters' landmark restaurant in Berkeley, Calif., and epitome of the local foods movement, comes this thoughtfully organized and user-friendly new kitchen resource. I say 'resource' because it is much more than a cookbook. Along with many, many approachable recipes, there is a bounty of beautifully presented information."
— Ohio Today

"A delightfully inspiring primer for anyone who may be curious about the local foods movement."
— Ohio Magazine

"With the increasing access to local food, consumers need ideas for selecting, storing and cooking the fare…. To the rescue: Marilou K. Suszko, a cookbook author and cooking instructor considered a guru of eating locally."
— The Columbus Dispatch