The Castle in the Attic (Audio Cassette)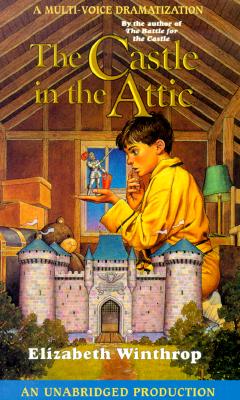 Email orders@tridentbookscafe.com or call for price
Special Order - Email orders@tridentbookscafe.com for availability
Description
---
Read by the author and the Words Take Wing TM Repertory Company
Two cassettes / 3 hours 30 mins.

William can't wait to play with the mysterious castle his housekeeper, Mrs. Phillips, has given to him.  For years whe has been telling him about the old stone and wood model with its drawbridgee, moat, and finger-high knight to guard the gates.  And now it is his.

If only Mrs. Phillips would stay with him, instead of going back to England, everything would be perfect.

But she is firm about leaving.

William is just as determined to make her stay--and he begins to see the way to do it when he picks up the little silver knight, which comes alive in his hand!

But William's big idea turns out to be the worst mistake of his life.  To correct it, he must undertake a fantastic quest to another island, where he must battle to conquer both the darkness outside, and the darkness within.
Praise For…
---
"An absorbing fantasy...suspense and colorful details, as well as a gentle moral precept, make the story special."  --Publishers Weekly