The Essentials of Greek Grammer: A Reference for Intermediate Students of Attic Greek (Paperback)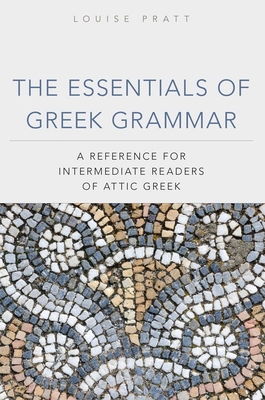 Find us on Bookshop.org to order!
Description
---
The first textbook to offer a systematic grammar review of Attic Greek Designed for intermediate-level students, this textbook presents an outline of the essential forms and syntax of ancient Attic Greek. A perfect supplement to Louise Pratt's Eros at the Banquet, it also stands alone as a useful resource for any student seeking to move beyond the basics of Greek into the exciting experience of reading classical literature in its original language. The Essentials of Greek Grammar is based on the author's many years of classroom experience and on the handouts she developed and fine-tuned to supplement a variety of textbooks and approaches. In part 1 of the volume, Pratt covers the following: - morphology and parts of speech in increasing order of complexity, from articles and pronouns through adjectives; - active and passive participles; - nouns, with a summary of endings and examples of the three declensions; - verbs, with summaries and examples of regular and irregular forms. Part 2 presents syntax, moving from the relatively straightforward case uses of nouns and pronouns, to the uses and positions of adjectives and the complexities of verb types and moods. Pratt also includes miscellaneous figures of speech and a handy appendix listing two hundred common Attic verbs and their principal parts. Volume 39 in the Oklahoma Series in Classical Culture Louise Pratt is Professor of Classics at Emory University. She is the author of Lying and Poetry from Homer to Pindar: Falsehood and Deception in Archaic Greek Poetics.