The Fate of the Earth and the Abolition (Stanford Nuclear Age) (Paperback)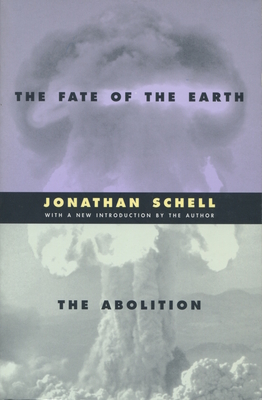 $44.80
Not currently in store. Available to ship from distributor's warehouse.
Description
---
Now combined in one volume, these two books helped focus national attention in the early 1980s on the movement for a nuclear freeze. The Fate of the Earth painted a chilling picture of the planet in the aftermath of a nuclear holocaust, while The Abolition offered a proposal for full-scale nuclear disarmament. With the recent tensions in India and Pakistan, and concerns about nuclear proliferation around the globe, public attention is once again focused on the worldwide nuclear situation. The author is at the forefront of the discussion. In February 1998, his lengthy essay constituted the centerpiece of a special, widely distributed issue of The Nation dealing with the nuclear arms race. The relevance of his two books for today's debates is undeniable, as many experts assert that the nuclear situation is more dangerous than ever.
Reviews of The Fate of the Earth
This is a work of enormous force. There are moments when it seems to hurtle almost out of control, across an extraordinary range of fact and thought. But in the end, it accomplishes what no other work has managed to do in the years of the nuclear age. It compels us--and compel is the right word--to confront head on the nuclear peril.
--New York Times Book Review
There have been thousands of commentaries on what this new destructive power of man means; but my guess is that Schell's book . . . will become the classic statement of the emerging consciousness.
--Max Lerner, New Republic
Reviews of The Abolition
As always, Schell is interesting and ingenious, eloquent and sometimes moving. He presents his case with clarity, and with candor about its possible shortcomings.
--New Republic
A reasoned argument. . . . As this work will do much to stimulate the ongoing nuclear debate, it is highly recommended.
--Library Journal
About the Author
---
Jonathan Schell is a writer and anti-nuclear activist. He is the author of several books, including The Gift of Time.
Praise For…
---
"This is a work of enormous force. . . . It compels us—and compel is the right word—to confront head-on the nuclear peril."—New York Times Book Review

"As always, Schell is interesting and ingenious and sometimes moving."—New Republic