The Birth Order Book: Why You Are the Way You Are (Paperback)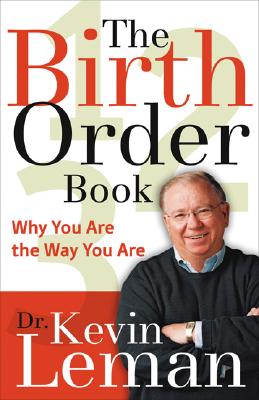 $14.99
Email or call for price.
Description
---
First born? Only child? Middle child? Baby of the family? Find out what it means to you, your relationships, and your career. Do you realize that of the first twenty three astronauts in space, twenty one were first borns and the other two were an only child in their family? Did you know that first borns are natural leaders? They are our CEOs and presidents. Were you aware that many entrepreneurs, like Donald Trump and Bill Gates, are middle children? Ever wonder how it is that your show-off kid sister became the top salesperson in her company? It's also no coincidence that comedians Billy Crystal, Drew Carey, and Steve Martin are all the youngest of their sex in their family. It's all about birth order. Birth order powerfully influences who you are, who you marry, the job you choose, and the kind of parent you are. With insight and wit, Dr. Leman's classic book will help you understand yourself, get along better with others, overcome ingrained tendencies you never thought you could get rid of, and be more successful in the workplace. Founder of www.matchwise.com, an Internet dating service based on birth order, Dr. Kevin Leman is an internationally known psychologist, humorist, and radio and TV personality. He is the best-selling author of Making Children Mind without Losing Yours, Sex Begins in the Kitchen, and My Firstborn, There's No One Like You. He is former consulting psychologist for Good Morning America and a frequent guest for American Morning, The View, Oprah, Today, The Early Show, and Focus on the Family. Dr. Leman is president of Couples of Promise. He and his wife, Sande, live in Tucson, Arizona. They have five children.