The Future of Another Timeline (Hardcover)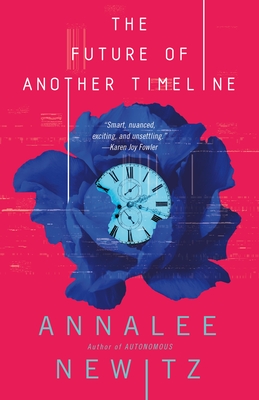 Staff Reviews
---
WHAT! A! BOOK! I didn't realize I needed a feminist time travel novel steeped in Riot Grrrl culture and taking place at the Chicago World Fair, but my god, I very much did. THE FUTURE OF ANOTHER TIMELINE is a masterpiece. It revolves around Tess, a time-traveler from the year 2022, working with a feminist group, The Daughters of Harriet, to ensure women maintain their rights in a constantly altering timeline. Throughout the novel, she has to wage an edit war against a Men's Rights group, trying to abolish women's rights. At the same time, Tess is trying to edit her own timeline in order to change a terrible event in her past.
A fantastic and fast-paced novel, this book is filed with amazing characters, a thrilling plot, and some  social commentary that's to die for, I cannot recommend this book enough.
— Katherine N, Bookseller
Description
---
"A revolution is happening in speculative fiction, and Annalee Newitz is leading the vanguard."--Wil Wheaton

From Annalee Newitz, founding editor of io9, comes a story of time travel, murder, and the lengths we'll go to protect the ones we love.

1992: After a confrontation at a riot grrl concert, seventeen-year-old Beth finds herself in a car with her friend's abusive boyfriend dead in the backseat, agreeing to help her friends hide the body. This murder sets Beth and her friends on a path of escalating violence and vengeance as they realize many other young women in the world need protecting too.

2022: Determined to use time travel to create a safer future, Tess has dedicated her life to visiting key moments in history and fighting for change. But rewriting the timeline isn't as simple as editing one person or event. And just when Tess believes she's found a way to make an edit that actually sticks, she encounters a group of dangerous travelers bent on stopping her at any cost.

Tess and Beth's lives intertwine as war breaks out across the timeline--a war that threatens to destroy time travel and leave only a small group of elites with the power to shape the past, present, and future. Against the vast and intricate forces of history and humanity, is it possible for a single person's actions to echo throughout the timeline?

Praise for The Future of Another Timeline:

"An intelligent, gut-wrenching glimpse of how tiny actions, both courageous and venal, can have large consequences. Smart and profound on every level."—Publishers Weekly (starred review)

"You close the book reeling with questions about your own life and your part in changing the future."—Amy Acker, actress (Angel and Person of Interest)
About the Author
---
ANNALEE NEWITZ is an American journalist, editor, and author of fiction and nonfiction. They are the recipient of a Knight Science Journalism Fellowship from MIT, and have written for Popular Science, The New Yorker, and the Washington Post. They founded the science fiction website io9 and served as Editor-in-Chief from 2008–2015, and then became Editor-in-Chief at Gizmodo and Tech Culture Editor at Ars Technica. Their book Scatter, Adapt, and Remember: How Humans Will Survive a Mass Extinction was nominated for the LA Times Book Prize in science. Their first novel, Autonomous, won a Lambda award.
Praise For…
---
"Breathtakingly brilliant."—The New York Times

"A revolution is happening in speculative fiction, and Annalee Newitz is leading the vanguard." -- Wil Wheaton, actor Star Trek and Big Bang Theory

"Few stories are as smart, as nuanced, as exciting, and as unsettling as this one....engrossing and impactful." — Karen Joy Fowler, bestselling author of We Are All Completely Beside Ourselves

"Annalee Newitz combines time travel, multi-alternative realities and feminist politics in the fast-paced, complex and mind-blowing The Future of Another Timeline . . . a compulsively readable novel of controlled anger that, despite the horror, offers hope."—The Guardian

"It's like Newitz has written a science fiction addendum to Handmaids Tale... She flawlessly weaves between time and characters and creates a feminist, sci-fi, thrill-ride integrated into a covert history lesson. You close the book reeling with questions about your own life and your part in changing the future." —Amy Acker, actress Angel and Person of Interest

"A page-turner and an ambitious feminist lens on the time-traveler story." — Kelly Sue DeConnick creator of Bitch Planet, writer for Captain Marvel

"A glorious tale of hope in the face of outrage, an anthem of timeless resistance against the powers that would lead us to our worst futures." —Ken Liu, Author of The Paper Menagerie and Other Stories and The Grace of Kings

"The Future of Another Timeline does brilliantly what SF does best: makes metaphor concrete to illuminate the human condition. In this case, the idea that women are consistently written out of history by men is turned into a visceral reality, and secret history becomes a thrilling secret war." —Nicola Griffith, author of Hild

"The best punk rock / time travel / Chicago history / riot girl / mindf*ck of a book I have ever read. Grape Ape Forever!" --Dan Sinker, creator of Punk Planet magazine

"The Future of Another Timeline is the mind-blowing punk feminist sci-fi time traveling thriller you've been waiting for, and which our culture desperately needs. Packed with action, sass, righteousness, technology and danger, it just might be a perfect book." —Michelle Tea

"A multilayered tale of "editing" history, human rights, and the ripple effect. Smart and profound on every level." —Publishers Weekly (starred review)

"Clever, compelling and utterly original." —Laurie Penny, author of Everything Belongs to the Future

"Exciting and urgent." —Saladin Ahmed, Eisner winning author of Black Bolt, Exiles, and Throne of the Crescent Moon

"Newitz's carefully built narrative of time travel and conflict is rooted in the drive and joys
of intersectional feminism, sex positivity, and acceptance...This riot of a book will have readers delighting both in the thrilling battle over timelines in an intricate, alternative world and in the joys of inclusive feminist solidarity."—Booklist (starred review)

"Where the book really shines is in its page-turning plot and thoughtfully drawn characters... the story charges along until Newitz suddenly ties it all together with breathtaking finesse. An ambitious adventure that keeps the surprises coming." —Kirkus (starred review)

"[Newitz] highlights the truths of our past and possibilities of our future. The fantastical elements do not hide the all-too-real horrors women could face, but intelligence and hope are woven into every level." —Library Journal (starred review)

"Newitz is one of the patron saints of geeks . . . a compelling piece of sci-fi that plays with time, friendship, and consequences . . . your new must-read."—The Mary Sue

"Sure to become a feminist time travel classic."—Den of Geek