A Darker Shade of Magic: A Novel (Shades of Magic #1) (Paperback)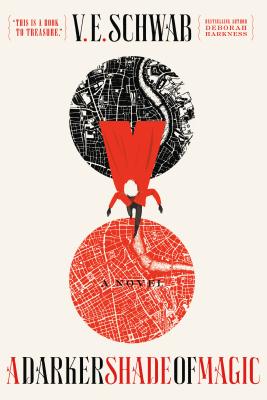 Other Books in Series
This is book number 1 in the Shades of Magic series.
Staff Reviews
---
I fell in love with V.E Schwab's writing and language within the first few pages and was already half in love with Kell by the time the first chapter ended. The entire world(s) and its magic and languages and traveling was fascinating and well established in the first ten pages alone; the magic itself was rich and complex without being confusing or over-explaining itself. Kell's complicated relationship with his adopted family and the disconnect between his identities as adopted son, Antari, and possession was as captivating as the world was and it helped ground him as a character for me, as he was easy to empathize with despite whatever choices he made magically. I loved this book. I loved the writing and the world and the magic and the characters. And I cannot wait to start the next one.
— Ciera B., bookseller
Description
---
A Darker Shade of Magic, from #1 New York Times bestselling author V.E. Schwab

Kell is one of the last Antari—magicians with a rare, coveted ability to travel between parallel Londons; Red, Grey, White, and, once upon a time, Black.

Kell was raised in Arnes—Red London—and officially serves the Maresh Empire as an ambassador, traveling between the frequent bloody regime changes in White London and the court of George III in the dullest of Londons, the one without any magic left to see.

Unofficially, Kell is a smuggler, servicing people willing to pay for even the smallest glimpses of a world they'll never see. It's a defiant hobby with dangerous consequences, which Kell is now seeing firsthand.

After an exchange goes awry, Kell escapes to Grey London and runs into Delilah Bard, a cut-purse with lofty aspirations. She first robs him, then saves him from a deadly enemy, and finally forces Kell to spirit her to another world for a proper adventure.

Now perilous magic is afoot, and treachery lurks at every turn. To save all of the worlds, they'll first need to stay alive.

"A Darker Shade of Magic has all the hallmarks of a classic work of fantasy. Schwab has given us a gem of a tale...This is a book to treasure."—Deborah Harkeness, New York Times bestselling author of the All Souls trilogy

Shades of Magic series
1. A Darker Shade of Magic
2. A Gathering of Shadows
3. A Conjuring of Light
About the Author
---
VICTORIA "V.E." SCHWAB is the #1 New York Times bestselling author of more than a dozen books, including the acclaimed Shades of Magic series, Villains series, This Savage Song, and Our Dark Duet. Her work has received critical acclaim, been featured in the New York Times, Entertainment Weekly, Washington Post and more, translated into more than a dozen languages, and has been optioned for television and film. When she's not haunting Paris streets or trudging up English hillsides, she lives in Edinburgh, Scotland and is usually tucked in the corner of a coffee shop, dreaming up monsters.
Praise For…
---
Entertainment Weekly's 27 Female Authors Who Rule Sci-Fi and Fantasy Right Now

"A Darker Shade of Magic has all the hallmarks of a classic work of fantasy. Its plot is gripping. Its characters are memorable. Its setting in four parallel, powerful Londons is otherworldly yet believable. Schwab has given us a gem of a tale that is original in its premise and compelling in its execution. This is a book to treasure." —Deborah Harkness, New York Times bestselling author of The All Souls Trilogy

"Compulsively readable...her characters make the book. Just as Kell has layers, Lila is a satisfyingly rich invention...With so many worlds on the map, there's plenty left to discover." —NPR

"A Darker Shade of Magic feels like a priceless object, brought from another, better world of fantasy books." —io9

"Schwab (Vicious) creates an ingenious set of nesting alternate Londons in this imaginative, well-crafted fantasy. Confident prose and marvelous touches-a chameleon coat, a scarlet river of magic, a piratical antiheroine-bring exuberant life to an exhilarating adventure among the worlds." —Publishers Weekly, starred review

"A Darker Shade of Magic is smart, funny and sexy ... Schwab keeps the excitement coming with roller-coaster plot twists that establish her as, perhaps, the natural successor to Diana Wynne Jones's contemporary fantasy crown." —The Independent

"Fantasy fans will love this fast-paced adventure, with its complex magic system, thoughtful hero and bold heroine." —Kirkus Reviews