The Goblin Emperor (Paperback)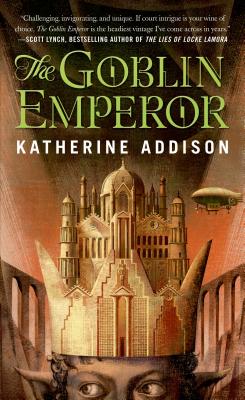 $8.99
Usually Ships in 1-5 Days
Description
---
A vividly imagined debut fantasy of court intrigue in a steampunk-inflected magical world from Katherine Addison.
Unbound Worlds 100 Best Fantasy Novels of All Time
The youngest, half-goblin son of the Emperor has lived his entire life in exile, distant from the Imperial Court and the deadly intrigue that suffuses it. But when his father and three older sons in line for the throne are killed in an "accident," he has no choice but to take his place on the Untheileneise Throne.
The Goblin Emperor, set against the pageantry and color of a fascinating, unique world, is a memorable debut for a great new talent.
About the Author
---
KATHERINE ADDISON's short fiction has been selected by The Year's Best Fantasy and Horror and The Year's Best Science Fiction. As Sarah Monette, she is the author of the Doctrine of Labyrinths series and the Locus Award-winning novel The Goblin Emperor; and co-author, with Elizabeth Bear, of the Iskryne series. She lives near Madison, Wisconsin.
Praise For…
---
"Challenging, invigorating, and unique. If courtly intrigue is your wine of choice, The Goblin Emperor is the headiest vintage I've come across in years." —Scott Lynch, bestselling author of The Lies of Locke Lamora
"I enjoyed The Goblin Emperor a great deal. I was sucked right into her world of goblins, elves, and airships, and was anxious to the very end to find out how Maia, the unwanted halfblood son of the Emperor, who finds himself unexpectedly on the throne, learns to navigate the intrigues and danger of the imperial court. An engrossing read!" —Kristen Britain, New York Times bestselling author of Blackveil
"Impressively elaborate worldbuilding underpins this lovely fantasy novel, but I couldn't put it down because of the heart-grippingly sympathetic main character." —Kate Elliott, bestselling author of the Crossroads series
"Katherine Addison has written a nuanced and compelling story. Her world is unusual and vivid, her characters affecting, and her storytelling subtle and deft. This is a book I will be thinking about for a long time. Highly recommended!" —D. B. Jackson, author of Thieftaker