Deathless (Paperback)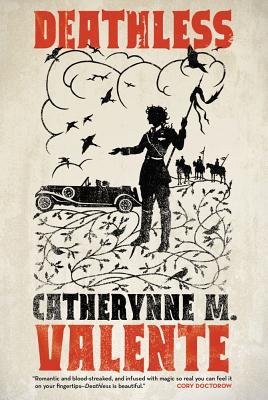 Staff Reviews
---
I have bought four separate copies of "Deathless" because I keep lending them to friends and not getting them back. When I first read this book I would press it into all my friend's hands and insist that they read it because I loved it so much. "Deathless" is something of a Russian fairytale, and something of a fantasy romance, and something altogether more. It follows Marya Morevna and her relationship with Koschei the Deathless, a character out of Russian folk lore. Valente's writing captures the dreamy qualities of fairytales but packs enough of a punch to draw blood. As I was writing this review I considered buying another copy of this book for myself, because once again my copy has found its way into the hands of someone else. I highly suggest  you read this book.
— Katherine N, Bookseller
Description
---
A glorious retelling of the Russian folktale Marya Morevna and Koschei the Deathless from Catherynne M. Valente, set in a mysterious version of St. Petersburg during the first half of the 20th century

Koschei the Deathless is to Russian folklore what devils or wicked witches are to European culture: a menacing, evil figure; the villain of countless stories which have been passed on through story and text for generations. But Koschei has never before been seen through the eyes of Catherynne Valente, whose modernized and transformed take on the legend brings the action to modern times, spanning many of the great developments of Russian history in the twentieth century.

Deathless, however, is no dry, historical tome: it lights up like fire as the young Marya Morevna transforms from a clever child of the revolution, to Koschei's beautiful bride, to his eventual undoing. Along the way there are Stalinist house elves, magical quests, secrecy and bureaucracy, and games of lust and power. All told, Deathless is a collision of magical history and actual history, of revolution and mythology, of love and death, which will bring Russian myth back to life in a stunning new incarnation.
About the Author
---
Catherynne M. Valente, the acclaimed author of many books for adults, made her children's book debut with The Girl Who Circumnavigated Fairyland in a Ship of Her Own Making. She lives on an island off the coast of Maine with her husband.
Praise For…
---
"For fans of Neil Gaiman, Gregory Maguire, and the like, this is essential." —Library Journal, starred review


"Romantic and blood-streaked, and infused with magic so real you can feel it on your fingertips—Deathless is beautiful." —Cory Doctorow, bestselling author of Little Brother

"Stories, unlike people, don't stay dead forever, or not always. They can live again—but only under very special circumstances. They must be revived by the miraculous touch of a very rare class of being, a kind of multi-classed genius/scholar/saint, who can restore them to life. Catherynne Valente is such a being." —Lev Grossman, bestselling author of The Magicians, on Ventriloquism