The Smart Stepfamily: New Seven Steps to a Healthy Family (Paperback)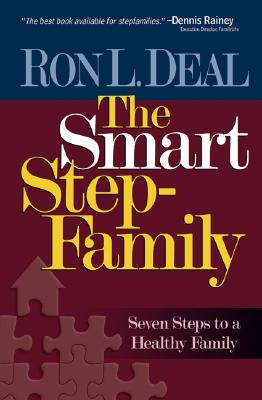 Email orders@tridentbookscafe.com or call for price
Description
---
Ron Deal explodes the myth of the "blended" family as he provides practical, realistic solutions to the issues that stepfamilies face. He helps remarried and soon-to-be married couples
Recognize the unique personality and place of each family member
Solve the everyday puzzles of stepparenting and stepchildren relationships
Learn communication skills to deal with ex-spouses
Honor families of origin while developing new traditions
Invest the time to grow their stepfamily slowly rather than look for instant results.
About the Author
---
Ron L. Deal is Founder and President of As For Me And My House Ministries, LLC and Successful Stepfamilies, an organization that empowers stepfamilies for healthy living and equips churches to minister to the unique needs of stepfamilies. He is author of the book "The Smart Stepfamily: Seven Steps to a Healthy Family" and creator/presenter of the "Building A Successful Stepfamily" seminar. Currently Ron is serving as Stepfamily Educational Consultant to Focus on the Family.

Ron is a Licensed Marriage and Family Therapist, Licensed Professional Counselor, and a member of the Stepfamily Association of America's Advisory Council and Institute Faculty. Ron and his wife Nan are also members of the National Advisory Board for The Association of Marriage and Family Ministries.

Ron's national radio appearances to address the needs of stepfamilies include "Focus on the Family" (and numerous FOTF broadcasts), "FamilyLife Today," "HomeWord" with Dr. Jim Burns, "America's Family Coaches" with Dr. Gary & Barbara Rosberg, "Live the Life" with AACC president Dr. Tim Clinton, "Josh McDowell radio," and many others. National TV appearances include "Reality Talks" with Dr. Kevin Leman, "A New Harvest," and "At Home Live," and "100 Huntley Street" in Canada. He has written feature family and ministry articles addressing a variety of family matters for a number of publications and online magazines.

On a regular basis Ron trains family ministry professionals at the Association of Marriage & Family Ministries conferences and has spoken at the National Stepfamily Conference, the American Association of Christian Counselors World Conference, the national Smart Marriages, Happy Families conference, and the Utah and Arkansas Governors' conferences on the family. He and his wife, Nan, and their sons live in Arkansas.