Marching as to War: Personal Narratives of African American Women's Experiences in the Gulf Wars (Paperback)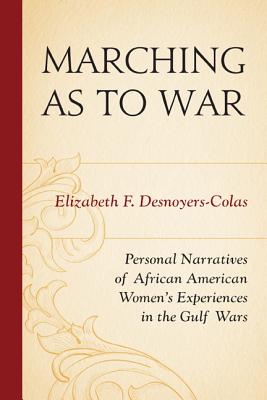 Not currently in store. Available to ship from distributor's warehouse.
Description
---
Since the American Revolution, African American women have served in every U.S. military conflict. Despite this dedicated service to their country, very little empirical research has been published regarding African American servicewomen, including those who have served in the Gulf Wars. Seen through the eyes of eleven African American servicewomen, this book explores issues such as health care, child care, sexism/sexual harassment, racism, religion, military promotions/career advancement, and serving in combat zones. Their stories illuminate the types of professional, sociological, and interpersonal experiences black servicewomen have encountered during their time in the Gulf Wars. To learn more about Marching as to War, check out Elizabeth Desnoyers-Colas' blog post at http: //rhetoricraceandreligion.blogspot.com/2014/05/stories-that-must-be-told-sharing.html.
About the Author
---
Elizabeth Desnoyers-Colas, PhD, is assistant professor of communication and the faculty coordinator of the African American Male Initiative Program at Armstrong Atlantic State University in Savannah, Georgia. A retired U.S. Air Force Major, her past military duties include serving as a speechwriter for senior DOD military and civilian officials on EEO/EO related issues and operating as the director of the Joint Task Force Information Bureau, Haitian Refuge Humanitarian Rescue Effort, and Guantanamo Bay, Cuba. She also served in Operation Desert Storm and was deployed to Central Air Forces, Forward, Dhahran, Saudi Arabia, as the director of Public Affairs/Protocol.