Really Important Stuff My Dog Has Taught Me (Paperback)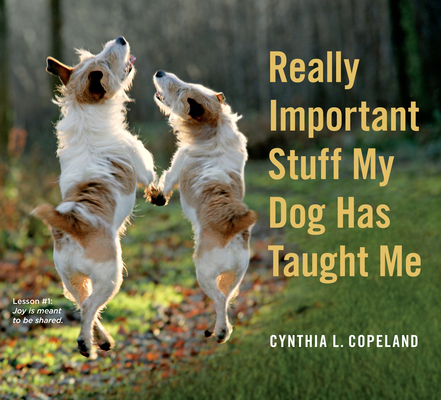 $12.95

Not currently in store. Available to ship from distributor's warehouse.
Description
---
A New York Times, Los Angeles Times, Boston Globe and Indie Bestseller!

Playful spaniels completely covered with snow—"There's no such thing as 'bad' weather." Two happy dogs sleeping, one on top of the other— "Sometimes you need a pillow. Sometimes you are the pillow." The bulldog who's headfirst in her bowl—"Every meal is THE BEST MEAL EVER."

Cynthia L. Copeland has a gift for discovering those sorts of simple, timeless lessons. She did it when her children were younger with Really Important Stuff My Kids Have Taught Me. Now she distills all-new wisdom from her lifelong love of dogs. Really Important Stuff My Dog Has Taught Me is tender, funny, warm, and utterly inspiring. Pairing an irresistible photograph with just the right sentiment, every page delivers a life lesson that appeals as much to our hearts as our minds. It reminds us again and again of what's important, like love: "Be there when others need you." Compassion: "Even the smallest act of kindness matters." Perseverance: "Keep going until you find your way home." A healthy sense of self: "Make it squeak until someone pays attention." Living in the present moment: "Scratch where it itches, when it itches." And that happiness is a choice: "Leap higher than you have to."
About the Author
---
Cynthia L. Copeland is the New York Times bestselling author of more than 25 books, including Really Important Stuff My Dog Has Taught Me and The Diaper Diaries. Her books have sold more than a million copies in eight languages, and have been featured on Good Morning America, selected for Oprah's "O List" in O: The Oprah Magazine, and recommended by Ann Landers. Ms. Copeland lives in New Hampshire with her family.
Praise For…
---
"Really Important Stuff My Dog Has Taught Me is tender, funny, warm, and utterly inspiring. Pairing an irresistible photograph with just the right sentiment, every page delivers a life lesson that appeals as much to our hearts as our minds." - Costal Canine Magazine