The Bigger Book of John Deere: The Complete Model-by-Model Encyclopedia Plus Classic Toys, Brochures, and Collectibles (Paperback)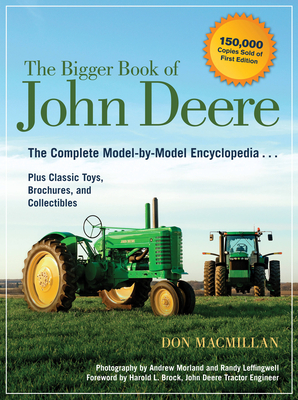 $41.99

Not currently in store. Available to ship from distributor's warehouse.
Description
---
This encyclopedia of John Deere tractors from around the globe, first published in 1999, is now updated with more than a decade of new Big Green machines. From John Froelich's revolutionary model to the Dain All Wheel Drive, the Waterloo Boy, and the great Johnny Poppers, from the New Generation of Power through to current machines, this guide covers all Deeres everywhere. Here as well as are the famous German Lanz, the Australian Chamberlain, and other tractors built in Europe, South Africa, China, Brazil, Canada, and more. Packed with more than 600 photos of tractors, model variations, brochures, toys, and other memorabilia, it's everything the Deere fan could wish for.
About the Author
---
The late Don Macmillan was one of the world's most respected authorities on Deere & Company. He bought his first Deere tractor in 1943, was appointed the first Deere dealer in the United Kingdom in 1958, and went on to establish one of the world's foremost collections of Deere tractors and memorabilia. Working with Deere & Company, he authored John Deere Tractors & Equipment Volumes 1 and 2 and John Deere Tractors Worldwide, all published by the American Society of Agricultural Engineers. He is also the author of The Bigger Book of John Deere and John Deere Tractor Legacy.
Harold L. Brock was chief engineer of the Ford N Series tractors covered in this book. He worked beside Henry Ford and Harry Ferguson, and has inside stories to tell about these men, machines, and their history. He later was an engineer at Deere & Company.;
Andrew Morland is a freelance photojournalist. He is the photographer of numerous Voyageur Press tractor books, including The Bigger Book of John Deere, Vintage Ford Tractors, and Classic Tractors of the World. He lives in Somerset, England.
Randy Leffingwell wrote his first book, American Muscle, in 1989 while still on staff at the Los Angeles Times. Since then, he has authored more than 50 other titles, covering subjects from sports cars to motorcycles to farm tractors. Leffingwell is considered one of the top transportation photographers and historians working today. Some of his previous bestselling Motorbooks titles include Art of the Corvette, Porsche 911: Fifty Years, John Deere: A History of the Tractor, and The Harley-Davidson Motor Co. Archive Collection (with Darwin Holmstrom). He lives in Santa Barbara, California.