Shelby Mustang Fifty Years (Hardcover)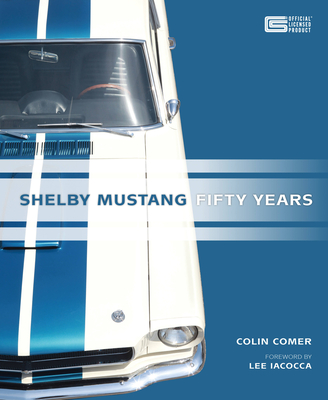 Email orders@tridentbookscafe.com or call for price
Description
---
Celebrate the 50th Anniversary of America's premier performance car!
From the original Shelby Mustang GT350 to today's 1,000 horsepower GT500, Carroll Shelby, Shelby American, and the Ford Motor Company have defined high-performance with their Shelby Mustangs. Shelby built his Mustangs from 1965 until 1970, at a time when it seemed that the muscle car was a dying breed. Then an odd thing happened: people began to realize the classic nature of the car almost as soon as Shelby stopped building them. After a much-too-long hiatus, in 2006 Carroll Shelby was back with Ford and production of new Shelby Mustangs began for the first time in 36 years. Today, Shelby Mustangs of all eras remain at the top of almost every gearhead's list and with good reason-they are America's premier do-it-all pony car.
Shelby Mustang Fifty Years is a celebration of these magnificent machines and covers every iteration from the raw 1965 GT350s to today's Shelby 1000 monster and the men that made it all happen. Created in cooperation with the Carroll Hall Shelby Trust and officially licensed by Carroll Shelby Licensing, Inc., Shelby Mustang Fifty Years is lavishly illustrated with rare, historic photography and modern color images to chronicle the story of these amazing cars, from the initial collaboration with Ford to today's record-setting high-tech muscle cars.
The foreword and tribute to Carroll Shelby by the "Father of the Mustang" Lee Iacocca rounds out this love note to America's premier performance car. No Mustang fan will want to miss it.
About the Author
---
COLIN COMER is a respected authority on collector cars and a noted champion for the cars, people, and history of Shelby American. Comer's writing is well known from his many years as editor-at-large for Sports Car Market and American Car Collector magazines, an editor for Hagerty magazine, and a contributing editor for Road & Track magazine. Comer has appeared in such diverse publications as the New York Times, Business Week, and USA Today among others. He is the author of the critically acclaimed books Million Dollar Muscle Cars, The Complete Book of Shelby Automobiles, and Shelby Cobra Fifty Years and co-author of The All-American Muscle Car. When not writing about cars, Comer enjoys maintaining his own eclectic collection of vintage cars and is an accomplished racer and pilot. He and his family live in Milwaukee, Wisconsin, or, in Comer's words, "fifty-two miles from Road America."
Praise For…
---
"It probably isn't possible to spin the Shelby Mustang yarn again and make it as interesting as Colin Comer has done in this book. Everything about this book screams quality. This is Comer's finest book yet. If you consider yourself a real Shelby person, this book should be on your coffee table. If you're not, it might just make you one." - The Shelby American
'compulsory reading... If there's only one Shelby book on your bookshelf, it should probably be this one.'
â??Shelby expert colin Comer really sets the bar highâ?¿ a coffee table book that should delight all Shelby Mustang fans.â??
"There are pictures aplenty, but first-hand accounts from the likes of Shelby Mustang project engineer Chuck Cantwell interspersed throughout the text - along with the vintage ads and buff book reviews - make the text more than the average coffee-table fare." - AutoWeek
"Colin Comer has done it again! What his last spectacular book Shelby Cobra 50 Years was to the Texan's snakes his new Shelby Mustang Fifty Years is to Shelby's Mustangs. It is the perfect addition to any Shelby or Mustang enthusiasts library. Somehow Colin seems to come up with new, unseen historic photography as well as the latest images of fantastic perfect restorations, like those of the first production and racing versions of the GT350 Shelby Mustang 5S003 and 5R002. Colin's latest also provides great insight into the background and development of the whole Mustang project at Shelby American with the project's leader, Chuck Cantwell, as well as commentary from those who assisted in making these great cars. It's all here, history, passion, racing and absolute perfection in the form of Concours level photography. An exceptional and highly recommended book!" - Peter Brock