Lookout: Love, Solitude, and Searching for Wildfire in the Boreal Forest (Hardcover)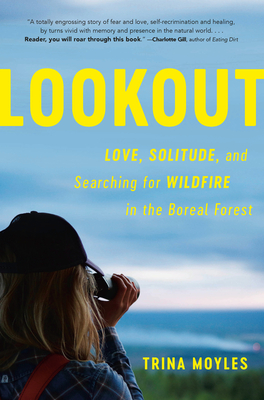 Find us on Bookshop.org to order!
Description
---
A page-turning memoir about a young woman's grueling, revelatory summers working alone in a remote lookout tower and her eyewitness account of the increasingly unpredictable nature of wildfire in the Canadian north.

While growing up in Peace River, Alberta, Trina Moyles heard many stories of Lookout Observers--strange, eccentric types who spent five-month summers alone, climbing 100-foot high towers and watching for signs of fire in the surrounding boreal forest. How could you isolate yourself for that long? she wondered. "I could never do it," she told herself.
Craving a deeper sense of purpose, she left northern Alberta to pursue a decade-long career in global humanitarian work. After three years in East Africa, and newly engaged, Trina returned to Peace River with a plan to sponsor her fiance, Akello's, immigration to Canada. Despite her fear of being alone in the woods, she applied for a seasonal lookout position and got the job.
Thus begins Trina's first summer as one of a handful of lookouts scattered throughout Alberta, with only a farm dog, Holly--labeled "a domesticated wolf" by her former owners--to keep her company. While searching for smoke, Trina unravels under the pressure of a long-distance relationship--and a dawning awareness of the environmental crisis that climate change is producing in the boreal. Through megafires, lightning storms, and stunning encounters with wildlife, she learns to survive at the fire tower by forging deep connections with nature and with an extraordinary community of people dedicated to wildfire detection and combat. In isolation, she discovers a kind of self-awareness--and freedom--that only solitude can deliver. Lookout is a riveting story of loss, transformation, and belonging to oneself, layered with an eyewitness account of the destructive and regenerative power of wildfire in our northern forests.
About the Author
---
TRINA MOYLES is a writer, photographer, potter, and seasonal smoke spotter in the northern boreal. She is the author of Women Who Dig: Farming, Feminism, and the Fight to Feed the World. Her award-winning writing has been published in The Globe and Mail, The Walrus, Alberta Views, Maisonneuve, Hakai Magazine, and many other publications. She lives, writes, and adventures in northwestern Alberta with her canine sidekick, Holly.
Praise For…
---
WINNER OF THE ALBERTA LITERARY AWARD FOR MEMOIR

WINNER OF THE 2021 NATIONAL OUTDOOR BOOK AWARDS IN THE OUTDOOR LITERATURE CATEGORY

FINALIST FOR THE ROBERT KROETSCH CITY OF EDMONTON BOOK PRIZE


"Moyles tells a totally engrossing story of fear and love, self-recrimination and healing, by turns vivid with memory and presence. Page after page, I felt immersed in the rejuvenating wonders of the natural world, rendered here in all their magnificent, everchanging detail. Reader, you will roar through this book." ―Charlotte Gill, author of Eating Dirt: Deep Forests, Big Timber, and Life with the Tree-Planting Tribe

"Trina Moyles has written a beautiful, closely observed love letter to the boreal forest and the wilderness of northern Canada at a time when it is threatened by unprecedented change. But Lookout is more than that: it's also a powerful, unforgettable story about the ways that solitude in nature can break us down, and then put us back together again."  ―Eva Holland, author of Nerve: A Personal Journey Through the Science of Fear

"A vital and howling missive of a book. Lookout holds the wide wisdom and fierce beauty of the boreal forest it depicts. Trina Moyles has spent several seasons sitting in the fire, looking into the heat of love, death and regenerated life; experiencing solitude as intensifying tincture. She writes as a wild and erudite witness, bursting with hunger and feral passion for the living world."  —Kyo Maclear, author of Birds Art Life: A Year of Observation

"Trina Moyles is a natural storyteller. As a novice fire lookout, she retreats into the bush, her heart and self-trust broken, and becomes the sort of woman who shoots a bear in the butt with a rubber bullet then bakes a peach cobbler, all while a record-breaking wildfire rages toward her. Lookout is courageous, vulnerable, funny and enthralling. Above all else, it imparts a much-needed message of hope and regeneration." —Jan Redford, author of End of the Rope: Mountains, Marriage, and Motherhood

"With effortless prose, Trina Moyles proves herself a deft observer of both the fires in the distance, and the desires, dreams and doubts she holds close. Moyles' voluntary solitude will make her readers somehow feel less alone. Lookout is a marvel." —Marcello Di Cintio, author of Pay No Heed to the Rockets: Life in Contemporary Palestine

"In her engrossing—at times raw—memoir, Moyles elegantly unfurls an unanticipated personal evolution. . . . [Lookout] can feel novelistic in its combination of evocative descriptions of jaw-dropping nature and Jack London-esque touches." —The Globe and Mail

"Crossing between countries and seasons, navigating years and relationships, and venturing in and out of the vast Canadian boreal forest along a network of fire towers, Trina Moyles' Lookout weaves together the story of one woman's becoming. As she struggles to overcome PTSD and heartbreak and return to herself in the remote Alberta wilderness of her childhood, Moyles comes to realize that the journey to the fire tower is less a groundless flight and more a homecoming, both to the land and to herself. Far from a story of vanishing into the bush in order to disappear, Lookout chronicles Moyles' emergent awareness of the profound links between those who strive to keep the forests and the surrounding towns and cities safe, and the vast ecosystems in which they work. It's a wry, generous, and grounded narrative that shows how it's possible to regenerate a sense of self after profound loss. Moyles, like her beloved boreal forest, rebounds with resilient grace." —Jenna Butler, author of Revery: A Year of Bees and A Profession of Hope: Farming on the Edge of the Grizzly Trail