Dracul (Paperback)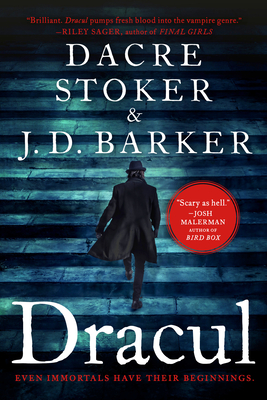 Find us on Bookshop.org to order!
Description
---
The prequel to Dracula, inspired by notes and texts left behind by the author of the classic novel, Dracul is a supernatural thriller that reveals not only Dracula's true origins but Bram Stoker's—and the tale of the enigmatic woman who connects them.

It is 1868, and a twenty-one-year-old Bram Stoker waits in a desolate tower to face an indescribable evil. Armed only with crucifixes, holy water, and a rifle, he prays to survive a single night, the longest of his life. Desperate to record what he has witnessed, Bram scribbles down the events that led him here...

A sickly child, Bram spent his early days bedridden in his parents' Dublin home, tended to by his caretaker, a young woman named Ellen Crone. When a string of strange deaths occur in a nearby town, Bram and his sister Matilda detect a pattern of bizarre behavior by Ellen—a mystery that deepens chillingly until Ellen vanishes suddenly from their lives. Years later, Matilda returns from studying in Paris to tell Bram the news that she has seen Ellen—and that the nightmare they've thought long ended is only beginning.
About the Author
---
Dacre Stoker is the great-grandnephew of Bram Stoker and the international bestselling co-author of Dracula: The Un-Dead, the official Stoker family-endorsed sequel to Dracula. He is also the co-editor of The Lost Journal of Bram Stoker: The Dublin Years. He currently lives with his wife, Jenne, in Aiken, South Carolina, where he manages the Bram Stoker Estate.

J.D. Barker is the internationally bestselling author of Forsaken, The Fourth Monkey, and The Fifth to Die. He was a finalist for the Bram Stoker Award for Superior Achievement in a First Novel, and winner of the New Apple Medalist Award. His works have been translated into numerous languages and optioned for both film and television. Barker currently resides in Pennsylvania with his wife, Dayna, and daughter, Ember.
Praise For…
---
Praise for Dracul
Bram Stoker Award Nominee—Superior Achievement in a Novel 2018
One of PW's Top 10 SF, Fantasy & Horror Novels of Fall 2018
One of Crime by the Book's Most-Anticipated Books of Late 2018

"Reading Dracul is like watching a classic vampire film. Bram Stoker lives! Dracula lives! Horror lives on nearly every page. A terrifying read that gave me hours of fun."—R.L. Stine, author of the Goosebumps and Fear Street series

"Brilliant. Dracul pumps fresh blood into the vampire genre by telling the story of the man who started it all—Bram Stoker. And what a story! A grand adventure that contains all the literary playfulness and mounting dread of the original Dracula. It gave me chills."—Riley Sager, author of Final Girls and The Last Time I Lied

"Something wonderfully wicked this way comes in the guise of a prequel to the granddaddy of vampire lore...Succumb to its horrific charms."—Family Circle
 
"The prose is modern, energetic, and easy to read. Dracul reveals not only Dracula's 'true' origin, but Bram Stoker's as well. More than just a Dracula novel, it's a great addition to the entire vampire genre."—SF Reader

"The narrative moves fairly quickly, pulling readers into this thrilling tale, with twists that keep the pages turning, even late into the night. …A strong pick for fans of classic gothic tales, such as Dracula, but also good for anyone who appreciates gripping historical novels, including those by Carlos Ruiz Zafón."—Library Journal (starred review)

"A big book that will no doubt be a hit among monster-movie and horror lit fans—and for good reason."—Kirkus Reviews

"Bram Stoker fans and scholars will find this a satisfying exploration of his legacy."—Publishers Weekly
 
"Sheds light on the original characters and author. Adding just the right touch of suspense increases the pace and ratchets up the tension."—Booklist

"A terrifying and compelling prequel that reveals how a young Bram Stoker confronted evil to craft a masterpiece."—Library Journal

"A compelling, deep, dark drama about Dracula's origin. Even I had to keep the lights on when reading this book!"—John Saul, author of Suffer the Children

"An exhilarating fever dream of creeping dread and dark adventure. Reading Dracul is like stepping into a time machine and traveling back to a shadowy landscape ruled by nightmares. I devoured it in two sittings and was delighted and chilled with every turn of the page. You will be, too."—Richard Chizmar, co-author of Gwendy's Button Box

"Scary as hell. Gothic as decay. Dracul will have you checking over your shoulder, under your bed, and up on the ceiling, too. All while wondering about the contents of every crate and oblong box you see."—Josh Malerman, author of Bird Box

"Whatever fiendish bargain Stoker and Barker struck to resurrect the voice of Bram Stoker with such authenticity and aplomb, it was worth it, at least to their mere mortal readers. Dracul is a genius and fevered nightmare of Gothic madness, each page seeping with ominous dread and escalating horror. It is a prequel more than just worthy of the original novel—it is sure to be an undying classic of its own, haunting, terrifying and entertaining generations to come."—Eric Rickstad, author of What Remains of Her and The Silent Girls