Abloh-Isms (Hardcover)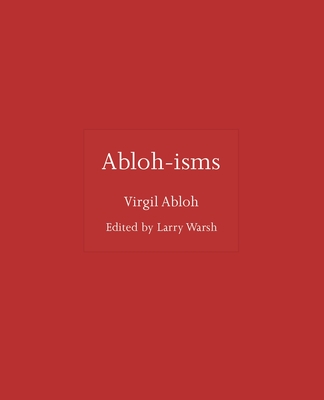 Description
---
A collection of essential quotations from the renowned fashion designer, DJ, and stylist
Abloh-isms
is a collection of essential quotations from American fashion designer, DJ, and stylist Virgil Abloh, who was a major creative figure in the worlds of pop culture and art. Abloh began his career as Kanye West's creative director before founding the luxury streetwear label Off-White and becoming artistic director for Louis Vuitton, making Abloh the first American of African descent to hold that title at a French fashion house. Defying categorization, Abloh's work has been the subject of solo exhibitions at museums and galleries, most notably in a major retrospective at the Museum of Contemporary Art Chicago. Gathered from interviews and other sources, this selection of compelling and memorable quotations from the designer reveals his thoughts on a wide range of subjects, including creativity, passion, innovation, race, and what it means to be an artist of his generation. Lively and thought-provoking, these quotes reflect Abloh's unique perspective as a trailblazer in his fields. Select quotations from the book:
"I believe that coincidence is key, but coincidence is energies coming towards each other. You have to be moving to meet it."
"Life is collaboration. Where I think art can be sort of misguided is that it propagates this idea of itself as a solo love affair--one person, one idea, no one else involved."
"Black influence has created a new ecosystem, which can grow and support different types of life that we couldn't before."
About the Author
---
Virgil Abloh (1980-2021) was artistic director of the menswear collection at Louis Vuitton and founder and CEO of the fashion label Off-White. In 2018, he was named one of the 100 most influential people in the world by Time magazine. Larry Warsh has been active in the art world for more than thirty years as a publisher and artist-collaborator and was a founding member of the Basquiat Authentication Committee until its dissolution in 2012. He is also the editor of Weiwei-isms and Humanity, by Ai Weiwei; Basquiat-isms and The Notebooks, by Jean-Michel Basquiat; and Haring-isms, by Keith Haring (all Princeton).